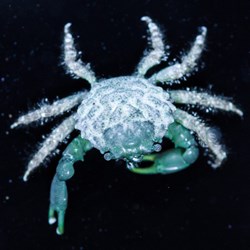 The creatures climbing the rocks and crawling on the sand are often more fascinating to watch, plus they play an important role in the ecosystem.
Garden Grove, California (PRWEB) August 30, 2013
Aquarium livestock boutique MarineDepotLive.com is helping fish and coral keepers keep their tanks clean with a little help from their friends. The Sand Sifting Starfish, Skunk Cleaner Shrimp, Turbo Snail and a host of other cool clean-up crew critters are now available at the popular online store and available to saltwater aquarium hobbyists across the United States.
"Fish are usually the first animal that springs to mind when someone thinks about an aquarium," said Ben Ros, MarineDepotLive.com Director of Operations. "But for saltwater aquarium owners, particularly those recreating a coral reef, the creatures climbing the rocks and crawling on the sand are often more fascinating to watch, plus they play an important role in the ecosystem."
Ros said marine invertebrates like snails, hermit crabs, sea stars and urchins are aquarium cleaning specialists and have earned a reputation in the hobby as an effective "clean-up crew" of saltwater fish tanks.
"The goal of many reef keepers is to have an ecosystem that can essentially maintain itself," said Ros. "These creepy-crawly critters scuttle around the tank consuming leftover fish food, algae and animal waste before they adversely affect water conditions and cause unsightly algae build-up."
Maintaining proper water chemistry is so important to reef aquarium keepers that hobbyists check important parameters like calcium, alkalinity, nitrate and pH regularly to ensure tank conditions are not only hospitable, but optimal for sea life to grow and thrive.
"Clean-up crew animals like Astraea Snails and Red Scarlet Hermit Crabs are the unsung heroes of reef aquaria," said Robert Farnsworth, Marine Depot Live Media Coordinator and owner of a colorful 45-gallon coral reef tank. "They work tirelessly, often behind-the-scenes, cleaning debris, sifting sand and eating detritus."
Farnsworth said clean-up crew critters complement aquarium filter systems and provide tank owners with hours of entertainment. Hermit crabs will literally battle each other on the sand bed for the roomiest, most luxurious shells.
"It can get competitive when real estate is scarce," Farnsworth said. "But it is fun to watch them scamper, scramble and squeeze into new shells. It's a good idea to keep a variety of shell sizes in your tank so hermits can upgrade as they grow."
To celebrate all the new additions to the site, Marine Depot Live is offering shoppers a sweet limited-time incentive. The first 100 customers who enter coupon code 33FORME at MarineDepotLive.com will receive 33% off their order. The company's What-You-See-Is-What-You-Get (WYSIWYG) line of rare and colorful corals are also eligible for the coupon discount.
"It's our way of thanking people for giving us a try," said Ros. "We nurture and cherish these animals and it brings us great joy to share them with fellow hobbyists. They are our babies. We take very good care of them and we expect our customers to do the same."
About MarineDepotLive.com
MarineDepotLive.com sells colorful corals, fascinating fish, cool clams and interesting inverts for saltwater marine & reef aquariums. The company specializes in rare What-You-See-Is-What-You-Get (WYSIWYG) corals that are shipped from a state-of-the-art aquaculture and holding center in Garden Grove, CA. Orders are shipped via overnight delivery for a flat-rate of $24.99 and backed by a 14-day Arrive Alive Guarantee. MarineDepotLive.com was founded in 2001.
###