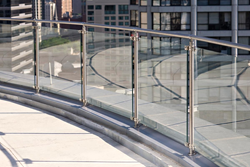 We are proud to be one their preferred vendors because San Ysidro Health Center is an organization that is committed to the health and well-being of our community.
San Diego, CA (PRWEB) August 20, 2014
St. Charles Catholic School in Imperial Beach is currently accepting applications for the 2014/2015 school year for their new Preschool and grades K to 8; however, not everyone can afford the cost. "The Tuition Assistance Fund at St. Charles Catholic School was my husband, Nacho's favorite cause. This is where all five of our children attended. Because Nacho was especially grateful for this wonderful experience, he wanted to help other families send their children to St. Charles that couldn't afford the tuition. Since Nacho was an avid golfer, after he passed away, Steve Stutz and Fr. Jim Bahash (Principal and Pastor at St. Charles) decided to name the charity golf event after him. Nacho's legacy of giving lives on through the kindness and generosity of the people that participate in this tournament each year," said Sheila Martinez, President and CEO of Martinez Supply. The 3rd Annual Nacho Martinez Golf Classic will take place in May 2015.
Once a small hardware supplier, Martinez Supply has grown into a major international hardware and glazing distributor of top quality goods for several industries, including the construction, hospitality and storefront industries. A family business, Martinez Supply was established over four decades ago by Vincent Martinez who formed a partnership with his son, Nacho within the first few years. Sheila Martinez has been a part of the family business since she and Nacho were married in 1986. She has worked full time alongside the office staff for over ten years and part-time for years before that. She is now President and C.E.O. since Nacho Sr.'s passing in 2012. Their son, Nacho Jr., joined the team 10 years ago while still in high school. He is now the Vice President of the company in addition to heading the Hospitality Division.
Martinez Supply is pleased to announce the recent launch of their new website, http://www.martinezsupply.com. Their new website is much more user-friendly and comprehensive, with additional information and complimentary photos for each of the divisions.
They are also a preferred vendor for San Ysidro Health Center. "We are proud to be one their preferred vendors because San Ysidro Health Center is an organization that is committed to the health and well-being of our community," said Sheila Martinez.San Ysidro Health Center (SYHC) is a non-profit organization fully committed to providing the highest quality, most compassionate, easily accessible and affordable health care services for the entire family. Their mission is to improve the health and well-being of our community's traditionally under served and culturally diverse people.
Martinez Supply offers many products including windows, fabricated glass, insulated glass units, glass railing systems, standard/custom shower doors, storefront doors and hardware, glazing and contracting tools, screen materials, and security doors. Martinez Supply is located at 2223 Verus Street, San Diego, CA 92154. For more information, please call 619-575-8802.
About Martinez Supply
When Nacho Martinez joined his father, Vincent in 1977, a beautiful partnership was formed. From the very first sale, customer service was a high priority for both of them.It remains so today.
About NALA™
The NALA is a full service marketing agency for local business owners offering new online advertising and small business marketing tools, great business benefits, education and money-saving programs, as well as a charity program.
PR Contact: Tiffani Tendell
ttendell(at)thenala(dot)com
805.650.6121, ext. 361