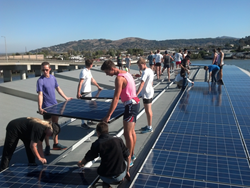 The first 100% solar powered rowing facility in the United States, eliminating over 21,000 pounds of CO2 emissions annually
Larkspur, CA (PRWEB) November 10, 2014
Leading the trend in incorporating solar energy production into athletic facilities, the Marin Rowing Association (MRA) today announced that it has become the first 100% solar powered rowing facility in the United States. Not only does the solar installation now power the entire facility, the project provides two complimentary car charging stations to the community.
A recent report by the Natural Resources Defense Council highlighted that over 200 sports programs, including leaders from the Big Ten, Pac-12, Ivy League, and SEC athletics conferences, are now prioritizing greener practices such as installing solar panels. MRA has not only embraced this trend, it has raised the bar.
"It has been a terrific team effort by many members of the Marin Rowing Association, from Masters to Juniors, to reach this goal." emphasized Sandy Armstrong, MRA Executive Director. "A very special thank you goes to Brad McClintock with Golden State Solar Electric. His volunteer efforts and connections for the materials made this project possible." (mcclintock2731 at gmail.com).
"We now have the energy to not only meet today's electricity needs, but also to have the energy available to provide two complementary electric car chargers for the entire community around the boathouse," highlighted John Younger, MRA Solar Project Manager, Rower and Chairman of HireMojo (http://www.hiremojo.com). "The MRA boathouse has set the new standard for facilities of this kind within the United States, eliminating over 21,000 pounds of CO2 emissions annually."
About Marin Rowing Association (http://www.marinrowing.org)
The Marin Rowing Association is a nonprofit organization based in Marin County California. With over 300 members, MRA is recognized as a top competitor in Juniors and Masters rowing across the United States. The MRA mission is to introduce and promote the sport of rowing and overall fitness. The Junior team has a long history of success with over 17 National Championship titles, helping numerous high school athletes secure scholarships to colleges and universities. The Men's Master's 8+ recently won the 50 year old event at the Head of the Charles. More details about the MRA solar project can be found at: http://www.marinrowing.org/power-28-solar-campaign/.