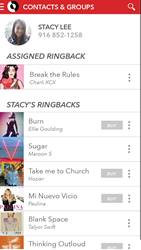 An innovative way to extend their thirst for social networking and serf expression to their Smartphones and digital life
Boston, Massachusetts (PRWEB) March 03, 2015
Mariposa Holdings Group has released RBT 2.0 - the world's most advanced Ring Back Tone and Self Expression application.
Designed to embrace how consumers engage in the digital world, RBT 2.0 seamlessly intertwines contacts, social communities, events, and experiences in a single application which, will launch first in the USA then across 8 countries in Latin America via selected mobile operators.
"RBT has always been about self-expression, even before the social networks, but has evolved little since its inception more than a decade ago. With RBT 2.0, we have reinvented the concept to make social the core RBT" said David Fondots, CEO of Mariposa.
RBT 2.0 is a powerful application that allows users to easily set their ringback-tones, even in real-time, and attribute them to specific friends, groups or times, enabling the user to know what music their friends are playing and to interact with them.
"It has never been easier, more fun or more interactive than now to use RBT," said Gabriel Rene, COO of ROK Mobile.
Backed by powerful artificial intelligence which includes music recommendations, customers can check what is being played most and to whom and what their friends are playing. They can also explore similar songs or artists to those, all at the touch of a button.
Customers can check what their friends are playing, explore similar songs or artists, all at the touch of a finger.
"RBT 2.0 brings 'social' into RBT," added Fondots.
About Mariposa
Mariposa RBT and mobile music solutions are live today across 9 countries In Latin America plus the USA with 14 mobile operators. Driven by hands on, analytics approach to mobile services, Mariposa's innovative applications drive revenue, loyalty, and profit from Mobile Money, Music, RBT, and Cloud with exclusive combinations of technology and content. http://www.mariposahg.com