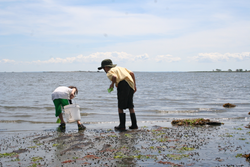 Norwalk, CT (PRWEB) May 28, 2014
There's still time to give kids a fun experience exploring our watery world this summer, through the "Sound Scientists" camp programs that start June 23 at The Maritime Aquarium at Norwalk.
The Aquarium will show kids the fun side of science inquiry, with lots of hands-on activities and experiments. Single-day and weeklong sessions are available. Each session is different, so pick from one, some or all.
One-day programs will be offered during the Fourth of July week. They're for ages 6 to 9 and cost $100 each ($80 for Aquarium members). Dates and topics are: Mon., June 30 – "Junior Aquarist for A Day"; Tues., July 1 – "Go Geo"; Wed., July 2 – "Bird's the Word"; and Thurs., July 3 – "Adaptation Nation."
Weeklong programs start June 23 and cost $435 ($350 for Aquarium members). Those programs still taking enrollments are:
June 23-27 – "Movin' On" (ages 6-10). This program features special workshops led by Play-Well TEKnologies.
July 7-11 – "Sharks & Fish" (ages 6-8).
July 14-18 – "Incredible Inverts" (ages 6-8).
July 21-25 – "Feature Creature" (ages 6-8) and "Waterbotics" (ages 12-15).
July 28-Aug. 1 – "Wacky Science" (ages 6-8).
Aug. 4-8 – "Mammal Mania" (ages 6-8).
Aug. 11-15 – "Ocean Worlds" (ages 6-8).
Aug. 18-22 – "Sound Art & Science" (ages 6-10).
No matter if it's a one-day program or part of the weeklong sessions, all "Sound Scientists" programs meet from 9:30 a.m. to 3:30 p.m.
Pre-care is available beginning at 8:30 a.m., for $20 for the one-day programs and $75 for the weeklong sessions. Extended care runs until 5:30 p.m., for $35 for one-day programs and $145 for weeklong sessions. Maritime Aquarium members get discounts.
Financial aid is available. Call (203) 852-0700, ext. 1201.
As a state-certified camp, health-exam forms are required of every camper.
Get more information about "Sound Scientists," including descriptions of each program as well as an application that can be downloaded, online at http://www.maritimeaquarium.org.
Or you can make reservations or get more details by calling (203) 852-0700, ext. 2206.