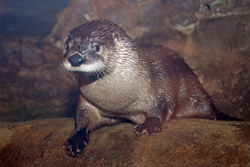 Norwalk, CT (PRWEB) December 19, 2014
Take the manic fun and energy in The Maritime Aquarium at Norwalk's River Otter Exhibit and multiply it by two again now that a 10-month-old otter named Levi is on display.
Levi was introduced into the Aquarium's River Otter Exhibit on Dec. 18, joining an 11-year-old male named Lew.
The young male otter arrived at The Maritime Aquarium in November from Connecticut's Beardsley Zoo in Bridgeport, where it was born in February.
Levi fills a spot opened by the death of Bell, a female otter that died in April at age 19. Lew has been at The Maritime Aquarium since 2003.
John Lenzycki, the Aquarium's curator of animals, said the process of introducing Levi and Lew has included gradual interactions monitored closely by the animal-husbandry staff. During this period, Aquarium visitors saw only one otter on exhibit at a time.
The River Otter Exhibit has been one of the most popular Maritime Aquarium displays since it became a permanent part of the Connecticut family attraction in 1996.
"Visitors love the otters because they see them as being very cute and active and personable," Lenzycki said. "And The Maritime Aquarium's exhibit helps to encourage that connection because it's designed to let visitors get close to the otters."
For visitors who want to try to tell the otters apart, Levi is slightly smaller and his neck is creamier in color.
For more details about the animals, exhibits, IMAX movies and programs at the popular Connecticut family attraction – or to purchase tickets in advance – go to http://www.maritimeaquarium.org.