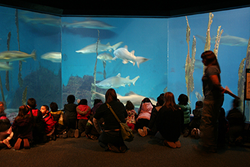 Our goal is for the Aquarium to be an extension of every classroom in Norwalk, and in the entire region.– Tom Naimanthe Aquarium's director of education.
Norwalk, CT (PRWEB) October 27, 2014
Educators are invited to a free after-hours open house on Thurs., Nov. 6 to learn how The Maritime Aquarium at Norwalk's programs and resources – including its unique new research vessel – will enhance lessons to their students.
The event, called "Fish School," will run from 4 to 7 p.m. Purpose of the evening is to show teachers the many ways they can connect their students and curricula with the Aquarium's unique educational programs, which help to fulfill state, Common Core and Next Generation Science standards.
"Our goal is for the Aquarium to be an extension of every classroom in Norwalk, and in the entire region," said Tom Naiman, the Aquarium's director of education. "We consider teachers and students to be our priority audience, and our catalog of brand-new programs is designed to support and extend the school curriculum."
The most exciting new Aquarium asset is the new research vessel, R/V Spirit of the Sound™. The $2.7 million, 63-foot catamaran is the country's only research vessel with a hybrid-electric propulsion system, making it bigger, quieter and greener than the Aquarium's former diesel-powered trawler. The new boat is equipped with a larger touch tank and larger classroom space, a remotely operated vehicle (ROV) and microscopes connected to a large TV monitor, and other assets for teaching marine science out on Long Island Sound.
Spirit of the Sound's initial outings – for school groups and the public – begin in mid-December with the Aquarium's Seal Spotting Cruises.
"Our Marine Life Study Cruises offered from April through October are experiential learning at its best," Naiman said. "And now we're developing Oceanography and Environmental Science programs for high school students that will debut on our new vessel in the spring."
"Fish School" also gives Maritime Aquarium educators the opportunity to demonstrate some of the Norwalk attraction's most popular educational programs, from microscope discoveries to squid dissections.
IMAX® movies can be incorporated into classroom lessons through educational guides created by the films' producers. On Nov. 6, teachers can preview two opportunities screenings in Connecticut's largest IMAX Theater. Showing on the six-story screen will be "Island of Lemurs: Madagascar" at 6 p.m. and "Journey to the South Pacific" at 7 p.m.
Admission, a light dinner and parking are all free for "Fish School." However, space is limited and advance registration is required. (As this is a professional event, for educators only, no children or spouses, please.)
Register now at reservations(at)maritimeaquarium(dot)org or call (203) 852-0700, ext. 2206.