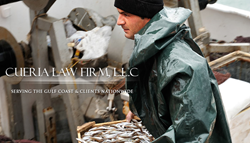 New Orleans, LA (PRWEB) August 20, 2015
New Orleans-based Cueria Law Firm is pleased to announce its plan to represent maritime workers and their Jones act cases nationwide. Providing maritime attorney services across the US, the admiralty lawyers at Cueria Law Firm are ready to bring offshore injury suits to court to ensure seamen receive their rightful compensation.
Serving the New Orleans and Gulf Coast area for over twenty years, Cueria Law Firm is committed to protecting the rights of our offshore injury clients. Cueria maritime attorneys have seen incredible success in the representation of maritime workers who have been hurt by negligent companies. This includes multiple successful maritime settlements ranging from $450,000 to 2 million dollars. These cases are just a few examples of the damages Cueria Law Firm has sought successfully, and the firm is looking to represent seamen anywhere in the US toward achieving the same results.
The Cueria Law Firm Jones Act lawyer will give each case personal attention and will be the expert that offshore workers need when seeking damages due to a maritime injury, no matter where they are located in the US. Maritime workers who have suffered from an injury on the job anywhere in the US should call the Cueria Law Firm for a free consultation.
About Cueria Law Firm:
Cueria Law Firm, L.L.C., is a personal injury law firm located in New Orleans. Our maritime attorneys are committed to protecting the rights of our clients. Our goal is to provide zealous, ethical advocacy for personal injury victims. For the past 20 years, we have established a client base throughout Louisiana, the Gulf Coast and nationwide. Cueria Law Firm is offering free consultations for those seeking a maritime attorney. Feel free to call us at 1-800-899-7102 or visit our website http://www.cuerialawfirm.com for more information.