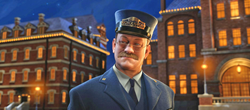 (PRWEB) November 24, 2014
"All aboard!" for a magical IMAX® movie adventure to Santa's North Pole headquarters beginning Nov. 28 when the holiday film "The Polar Express" returns for a limited engagement to the giant screen in The Maritime Aquarium at Norwalk.
The animated film, based on the award-winning children's book and featuring Tom Hanks as the voice of five characters, will play from Nov. 28 through Dec. 21 at 4 & 7:30 p.m. Fridays & Saturdays and at 4 p.m. Sundays. From Dec. 26-Jan. 1, times are 4 & 7:30 p.m. daily. (Confirm times at http://www.maritimeaquarium.org.)
"'The Polar Express' has become a modern holiday classic; a story worth hearing – and seeing – every year," said Chris Loynd, marketing director of the popular Connecticut attraction.
Plus, beginning Nov. 25, all Maritime Aquarium visitors can enter a free drawing to win a G-gauge toy train set of "The Polar Express." Look for entry forms near the Aquarium's gift shop. (You don't have to pay Aquarium admission to enter the drawing or to visit the Aquarium gift shop.) The train-set winner will be chosen at random out of all entries on Mon., Jan. 5.
"The Polar Express" IMAX movie is based on the 1986 Caldecott Award-winning book by Chris Van Allsburg. The story follows a young boy who doubts the existence of Santa Claus. On Christmas Eve, a locomotive magically arrives to take him and other doubtful children to Santa's North Pole headquarters.
Tom Hanks voices five roles, including the train's conductor, a ghostly hobo and Santa Claus. Robert Zemeckis directed the 2004 Warner Bros. Pictures release.
IMAX is the world's largest film format. Outstanding image clarity and the enormous screen size, combined with The Maritime Aquarium's 12,000-watt surround-sound audio system, results in an immersive thrill that is so unique it's been trademarked.
"IMAX's motto is 'IMAX is Believing,' which is why it's the perfect film format for a movie that's about believing," Loynd said, noting that The Maritime Aquarium's six-story screen is the largest IMAX screen in Connecticut.
Because "The Polar Express" is an hour and 40 minutes long, tickets are specially priced at: $11.50 for adults; $10.50 for youths (ages 13-17) & seniors (65+); and $9.50 for children (ages 3-12). Maritime Aquarium members save $1.
To include a visit to the Aquarium with "The Polar Express," tickets are $31.45 for adults, $28.45 for youths & seniors, and $22.45 for children.
Besides the weekend public screenings for family fun, screenings of "The Polar Express" on weekdays at 9 and 10 a.m. are available for preschool and elementary-school students. Loynd said these shows are appealing to teachers who want to treat their students to a special Christmas field trip.
Get more details or reserve your tickets in advance at http://www.maritimeaquarium.org or by calling (203) 852-0700, ext. 2206.