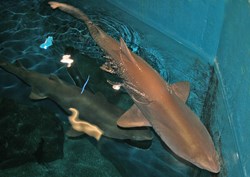 Norwalk, CT (PRWEB) November 12, 2013
Enjoy a special backstage look at how the sharks, seals, sea turtles, river otters and hundreds of other aquatic species are kept happy, healthy and well-fed during a "Behind-the-Scenes Tour" on Sat., Nov. 16 at The Maritime Aquarium at Norwalk.
A few lucky visitors may even get to help feed the sharks or hand-feed the rays!
The "Behind-the-Scenes Tour" starts at 8:15 a.m. and offer a unique opportunity to see how the animal-husbandry staff meets the varying needs of the Aquarium's animals, all of which have preferences for what they eat, how cool and salty they like their water, who they're sharing their exhibit with, and more.
The tour includes stops at the Aquarium's "fish kitchen," where 18 tons of fish food is prepared each year, and above the 110,000-gallon Ocean Beyond the Sound exhibit, where the dorsal fins of 7-foot sand tiger sharks cut through the water surface just below you.
"It's an impressive moment to see the sharks swimming just below you, without a window of aquarium glass in between," said Jack Schneider, the Aquarium's animal curator.
Tour participants learn the delicate requirements of a jellyfish "nursery," where a variety of jellyfish species are grown year-round. And a few members of the tour may get the chance to feed the nurse sharks and rays in the Shark & Ray Touch Pool.
Participants must be at least 10 years old; under 15 must be accompanied by an adult.
Cost is $25 ($22.50 for Aquarium members). Additional paid Aquarium admission for non-members at 10 a.m. is optional.
Space on the tour is limited, so reservations are strongly recommended. Walk-up tickets will be sold, space permitting.
The Maritime Aquarium is accredited by the Association of Zoos & Aquariums, which sets the top standards for animal care and visitor safety.
For reservations or more details about the "Behind-the-Scenes Tour," go to http://www.maritimeaquarium.org or call (203) 852-0700, ext. 2206.
A not-for-profit institution, The Maritime Aquarium is one of the best places for family fun and school field trips in Connecticut. The Aquarium's live exhibits focus on the animals, habitats and conservation needs of Long Island Sound, the estuary of national significance just outside our doors. The Aquarium also features Connecticut's largest IMAX Theater, with a movie screen that's six stories high and eight stories wide.