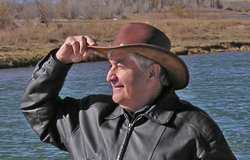 Everything I do, study, learn and advise about the environment is different from the status quo.–– Dr. Daniel Botkin
Norwalk, CT (PRWEB) March 08, 2014
Hear a unique and challenging perspective on ocean conservation – and on the state of the environmental sciences in general – from "renegade naturalist" Dr. Daniel Botkin in a special lecture on Mon., March 10 at The Maritime Aquarium at Norwalk.
Dr. Botkin is a scientist who studies life from a planetary perspective, a biologist who has helped solve major environmental issues, and a writer about nature.
Bluntly on his website, he says: "I believe we are mostly on the wrong track in the way we try to deal with the environment. Everything I do, study, learn, and advise about the environment is different from the status quo. Throughout my career, I have tried to understand how nature works and use that understanding to figure out how we can solve our most pressing environmental problems. My process over the past 45 years has been to look carefully at the facts, make simple calculations from them (sometimes simple computer models) and then tell people what I have learned. It's surprising how rarely people bother to look at the facts."
Botkin's books and lectures assert that our cultural legacy often dominates what we believe to be scientific solutions. Pulling from his decades of research in ecological sciences and his experiences directing large-scale projects to deal with environmental problems, Botkin will discuss what we tend to do wrong and how we can do better.
His Maritime Aquarium topic will be "What I've Learned in 45 Years as an Ecological Scientist About How to Solve Environmental Problems."
It starts at 8 p.m.
His talk will be richly illustrated with photographs from his research, from African elephants to Arctic bowhead whales, with a focus on Long Island Sound and the area encompassing Connecticut and southern New York.
Dr. Botkin is professor emeritus of Ecology, Evolution and Marine Biology at the University of California, Santa Barbara. He was founder and president of The Center for the Study of the Environment, a non-profit research and educational corporation.
He is perhaps best known for the development of the first successful computer simulation in ecology, a computer model of forest growth that has developed into a sub-discipline in this field, with more than 50 versions in use worldwide.
His books include "Discordant Harmonies" (1990), "The Moon in the Nautilus Shell: Discordant Harmonies Reconsidered" (2012) and "Strange Encounters: Adventures of a Renegade Naturalist" (2003).
Tickets for Dr. Botkin's talk are $20 ($15 for Aquarium members).
Moffly Media is exclusive magazine sponsor of the Aquarium's 2013-14 lecture series, which also will feature:

Sharon, CT, dentist Dr. Martin Nweeia, an expert on narwhals and their unique tusks, on Mon., April 7.
Zookeeper/ TV host Jack Hanna for two shows on Tues., May 7.
and Weston, CT, author Richard Hyman, who will talk about his expeditions aboard Jacques Cousteau's Calypso, on Mon., June 23.
To reserve tickets or for more details about the Botkin lecture or others in the series, call (203) 852-0700 or go to http://www.maritimeaquarium.org.