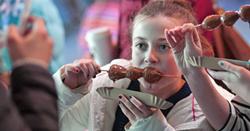 As we say every year, you'd have to be dipped in nuts not to come. – Chris Loynd, Aquarium marketing director
Norwalk, CT (PRWEB) January 22, 2015
Shop for sweets for your sweetie – or for your own sweet tooth – among sharks, seals, sea turtles and other amazing marine animals on Sun., Jan. 25 when The Chocolate Expo once again takes over The Maritime Aquarium at Norwalk.
Some 40 local and regional vendors will set up throughout the Aquarium galleries and offer tastings and sales of their delicious and decadent chocolates, baked goods and specialty foods.
The Maritime Aquarium will be fully open on Jan. 25, two hours longer than normal (until 7 p.m.) – and at a lower admission price than normal – making the event an outstanding value.
"Here's a recipe for a great day," said Chris Loynd, the Aquarium's marketing director. "Start with one of the best places for family fun in Connecticut, and melt in fine chocolatiers. Next, whisk in an assortment of other things chocolate, from soaps and crepes to brussels sprouts and bacon. Sprinkle in free demonstrations by celebrity chefs, and keep it all simmering for an additional two hours. Adorn with sides, relishes and sauces to taste. Finally, serve it all up for a 25 percent discount on regular Aquarium admission. As we say every year, you'd have to be dipped in nuts not to come."
First County Bank is presenting sponsor of The Chocolate Expo at The Maritime Aquarium.
Expo/Aquarium visitors will find not only traditional and gourmet chocolates, but also unique offerings like chocolate tarts, chocolate-covered pretzels, chocolate balsamic dressing, chocolate-covered bacon and even chocolate-scented bath soaps. Non-chocolate goodies will include gourmet crackers, pumpkin seeds, quiches, cannolis, vinaigrettes, pickles, cotton candy, challah breads and more.
Expo producer Marvin Baum said The Chocolate Expo is for people who are serious about chocolate and who love unique specialty foods.
"Vendors at the Expo typically offer small tasting-sized portions of their products," Baum said. "Think of the chocolate tastings in the way you might think of a wine tasting at a winery: you get a small sample to try and you often get to talk with the person who made the product. If you like what you've tasted, you can purchase that product for yourself or to give as gifts."
For ready-to-eat treats, Aurora Gourmet will have their chocolate fountains flowing, while Crazy Crepe Café will be making delicious crepes and Pika's Farm Table will serve authentic Belgian-style waffles dipped in a choice of white, dark or milk chocolate.
There will be no IMAX® movie presentations on Jan. 25, so that demonstrations using chocolate can be presented by three celebrity chefs:
– Tony Albanese, pastry designer and former assistant to Buddy Valastro of "Cake Boss," at 11 a.m. and 3:30 p.m.
– Barret Beyer of Fox TV's "Hell's Kitchen" at 12:30 & 5 p.m.
– and Larry Rosenberg, recipe-book author and owner of Bacon Bites, at 2 p.m.
Seating of 310 for the demonstrations will be on a first-come, first-seated basis. The chefs also will be available throughout the day for pictures and autographs.
Except for "Jiggle-A-Jelly" and "Meerkats," all of The Maritime Aquarium exhibits will be open during the Expo – and will stay open two hours longer than normal: from 10 a.m. to 7 p.m.
"Coming less than three weeks before Valentine's Day, it's a perfect opportunity to buy some sweets for your sweetie," Loynd said. "Plus, there are no NFL playoff games on the 25th, so there's no reason for anyone to stay home. In fact, with no football to watch, Chocolate Expo gives football fans something to do!"
Enjoy all the decadent treats while exploring The Maritime Aquarium, a not-for-profit organization whose mission is to educate visitors about – and to create stewards for – Long Island Sound. The Aquarium accomplishes this by allowing visitors to get close to more than 250 species native to the Sound and its watershed, including sharks, seals, sea turtles, river otters, jellyfish and other animals.
Special Expo/Aquarium ticket prices on Jan. 25 are just $15 for adults and $10 for kids 3-12. Paid admission is required on Jan. 25 of Aquarium members, who save $2 per ticket. Prices include Chocolate Expo admission, all Maritime Aquarium exhibits and the celebrity-chef demonstrations.
Last year's Chocolate Expo resulted in the busiest day in The Maritime Aquarium's history. Loynd said the Aquarium is prepared for another big crowd on Jan. 25, but suggested that guests will enjoy easier and quicker access by coming before 11 a.m. or after 4 p.m. Skip the line at the door, he added, by purchasing tickets in advance online at http://www.maritimeaquarium.org.
More parking is available for this year's event: in the Maritime Garage (across from the Aquarium's main entrance) and short walks away in the city's Webster Lot and Veteran's Memorial Park. Free shuttle-bus service will run continuously from Veteran's Park.
Find an open parking space by using a smart-phone app called Parker that displays "real-time" parking availabilities in South Norwalk.
For more information about The Chocolate Expo, go to http://www.thechocolateexpo.com or http://www.maritimeaquarium.org.