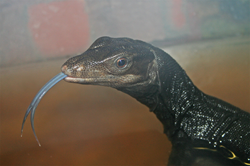 (PRWEB) February 17, 2015
See a baby black dragon – one of only an estimated 31 in the U.S. – in the only place in the country displaying one: in The Maritime Aquarium at Norwalk and the new special exhibit, "Dragons! Real or Myth?"
The rare black dragon and an exotic variety of land and sea creatures, all with dragon in their names, come together in this new jewel exhibit. Displays highlight the unique characteristics and adaptations of these animals, and also explore the history of mythological dragons and their roles in cultures throughout time.
"People have been imagining dragons for thousands of years," said Judith Bacal, the Aquarium's director of exhibits. "Some flew, some lived in the sea, some breathed fire. Depending on the setting, dragons were viewed as harbingers of doom or fortune; as wicked and in need of slaying by heroes; or as benevolent and wise. But they are always powerful.
"Our new exhibit is a fun chance to show all the different ways that cultures have feared and worshiped dragons, and to display real dragons living among us today," she said.
"Dragons! Real or Myth?" lets Maritime Aquarium guests get close to such species as: dragon moray eels; a colorful seahorse cousin called the weedy sea dragon; and terrestrial lizards like sailfin dragons, bearded dragons, frilled dragons and more.
The exhibit's star, the black dragon, is a water monitor lizard (Varanus salvator macromaculatus), a muscular species with big claws, a blue tongue and a long strong tail. It's black because it has a "melanistic" gene that makes it all black. (Similar to what makes an albino animal all white.) Normally, water monitor lizards are gray with yellow spots and black stripes.
You won't find a black dragon in any other U.S. aquarium or zoo; all other known black dragons are privately owned.
You also don't have much time to see the black dragon while it's young and small. Water monitor lizards grow quickly – commonly reaching 5 feet or more in length and from 40 to 50 pounds. These natives of South and Southeast Asia are the second-heaviest lizard, after the Komodo dragon.
Aquarium guests are encouraged to find similarities between the displayed live creatures and dragons of lore.
"You definitely can see how characteristics of the real dragons match features of the exaggerated beasts of legend," Bacal said.
She said the exhibit offers a fun family outing because adults and kids all can relate to dragons.
"Dragons are still everywhere," she said. "They're in the Harry Potter books and other children's literature. They're in movies like 'How to Train Your Dragon.' They're in video games. They're in 'Game of Thrones' and other TV shows. And they're in the Bible and in the classics, like 'Beowulf,' that people are still reading today."
"Dragons! Real or Myth?" is free with Aquarium admission: $19.95 for adults, $17.95 for youths 13-17 & seniors 65+, and $12.95 for children ages 3-12. Kids under 2, and Maritime Aquarium members, are admitted for free.
Get more details about exhibits, IMAX® movies and programs at the popular Connecticut family attraction online at http://www.maritimeaquarium.org or by calling (203) 852-0700.