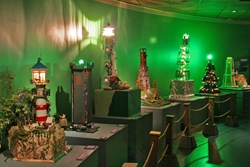 Norwalk, CT (PRWEB) December 23, 2013
Voter turnout is expected to be heavy during the holiday week as visitors descend on The Maritime Aquarium at Norwalk and help to determine the winner of the 12th annual "Festival of Lighthouses Contest."
Between Christmas and New Year's, The Maritime Aquarium is a great place for families with children and out-of-town guests. And everyone gets to vote in the lighthouse contest, which features 22 large model lighthouses made out of everything from Twinkies® and gingerbread to plastic bottles and dollhouse accessories.
The lighthouses were built by local artists looking for a challenge, by families who wanted to work together on a fun project, and by students fulfilling a school assignment. Aquarium visitors can follow these homemade beacons through the galleries and cast a vote for their favorite. The lighthouse that gets the most votes wins $1,500.
The display is free with Aquarium admission.
The contest, which runs through Jan. 20, has entries from residents of cities close to the Aquarium – Norwalk, Stamford and Bridgeport – but also from as far as Newtown, Ansonia and Shelton in Connecticut and Hartsdale and Wappingers Falls in New York.
Rules are kept to a minimum to allow for maximum creativity. Lighthouses must be 3 to 6 feet tall and have a working light, and may not include animal remains, such as shells. Beyond that, it's up to the creators' imaginations.
This year's entries include: a lighthouse made from Twinkies®, Ho Hos® and other Hostess snack cakes; a gingerbread lighthouse; one made of tin; one made of green plastic soda bottles; a lighthouse that celebrates the children's board game Candy Land; and a World Series lighthouse set in a baseball stadium. Four entries were built by students at The Ursuline School in New Rochelle, for their "Senior Introduction to Engineering" class.
Besides the contest's $1,500 top award, other prizes are: $750 for second place, $375 for third; $300 for fourth; $225 for fifth; and $150 for sixth. Winners will be announced at an evening reception on Jan. 23.
The Christmas-vacation week is a popular time for visits to The Maritime Aquarium, which offers memorable opportunities to get close to seals, sharks, river otters, sea turtles and other animals native to Long Island Sound and its watershed.
The "Festival of Lighthouses Contest" is free with Maritime Aquarium general admission, which is $19.95 for adults, $17.95 for youths (13-17) & seniors (65+), and $12.95 for children ages 3-12.
For more details about Maritime Aquarium exhibits, IMAX movies and programs, call (203) 852-0700 or go online to http://www.maritimeaquarium.org.