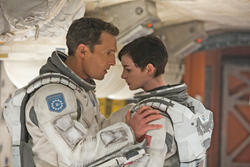 'Interstellar' begs to be seen on the large-format IMAX screen … – Variety magazine
(PRWEB) December 25, 2014
Experience "Interstellar" the way director Christopher Nolan intended beginning Dec. 26 when the Hollywood space epic debuts in 70mm film projection on the giant IMAX® Theater screen of The Maritime Aquarium at Norwalk.
Starring Matthew McConaughey, Anne Hathaway and Jessica Chastain, "Interstellar" will play on the Aquarium's six-story screen at 7:30 p.m. Dec. 26-Jan. 4 and then on Thursdays, Fridays and Saturdays at 7:30 p.m. Jan. 8-31.
Shown in 70mm film projection, Nolan's masterfully imagined details of space travel, deep space and alien worlds will immerse Aquarium audiences in ways that are impossible in local moviehouses – even those showing it in digital giant-screen projection.
"As Christopher Nolan did with the second and third films in his Batman trilogy, more than an hour of 'Interstellar' was shot using IMAX cameras," said Chris Loynd, the Aquarium's marketing director. "Exclusively in IMAX film-projection theaters – like The Maritime Aquarium's – these sequences will expand to fill the entire screen and deliver unprecedented crispness and clarity, providing audiences with a truly cinematic experience."
According to David Keighley, chief quality officer for IMAX Corp., the 70mm film version of "Interstellar" offers 100 times the resolution of your HDTV.
Loynd added that the portions of the movie not filmed with IMAX cameras have been digitally re-mastered so that all of "Interstellar" will be presented in the IMAX format, which combines the brightest, clearest images at almost 10 times the resolution of standard-projection formats. The imagery, combined with the Aquarium's 12,000-watt laser-aligned digital surround-sound and customized theater geometry, creates the world's most-immersive movie experience.
Variety magazine agreed with Loynd: " 'Interstellar' begs to be seen on the large-format IMAX screen, where its dense, inimitably filmic textures and multiple aspect ratios can be experienced to their fullest effect."
Written by Nolan and his brother, Jonathan, "Interstellar" is a near-future story of a team of astronauts sent from a dying Earth through a wormhole to search for other planets that might support humans.
Kenneth Turan of The Los Angeles Times called the film "a mass audience picture that's intelligent as well as epic."
"We're especially excited to make 'Interstellar' available in our IMAX Theater during the holiday week, when high-school youth and college students home on break are looking for things to do in the evening," Loynd said.
"Interstellar" is 2 hours and 49 minutes long, and is rated PG-13 for some intense perilous action and brief strong language.
Tickets for "Interstellar" in the Aquarium's IMAX Theater are $11.50 for adults, $10.50 for seniors 65+ and $9.50 for children 3-12. Maritime Aquarium members receive $1 discounts.
To purchase tickets in advance or for more information about the IMAX movies, exhibits and other winter offerings at the popular Connecticut family attraction, go to http://www.MaritimeAquarium.org.