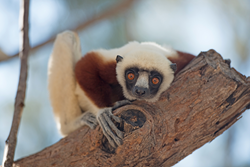 Norwalk, CT (PRWEB) March 26, 2014
IMAX® and Warner Bros. Pictures' "Island of Lemurs: Madagascar" will open on Fri., April 4 at The Maritime Aquarium at Norwalk. Narrated by Academy Award®-winner Morgan Freeman, this spectacular giant-screen journey to the remote and wondrous world of Madagascar tells the story of Earth's most endangered primates.
Show times through May 20 at The Maritime Aquarium are 11 a.m. and 1, 3 & 4 p.m. daily. From May 21-June 30, the film will play at 11 a.m. and 1 & 3 p.m. daily.
IMAX is the world's largest film format, and The Maritime Aquarium's six-story IMAX screen is the largest in Connecticut. The crystal-clear images, coupled with IMAX's customized theater geometry and powerful digital audio, create a unique environment that will make audiences feel as if they are in the movie.
"Island of Lemurs: Madagascar" re-teams writer-producer Drew Fellman, filmmaker David Douglas and narrator Morgan Freeman from the 2011 IMAX film "Born To Be Wild," which follows the efforts of two women to reintroduce orphaned baby orangutans and elephants back into their natural environments. Now beginning its unprecedented fourth year at The Maritime Aquarium, "Born To Be Wild" is one of the Norwalk attraction's most popular IMAX films ever.
This new giant-screen adventure travels to Madagascar and turns the IMAX cameras on lemurs, a unique line of primates that have been bounding around on the island paradise off Africa's eastern coast – and only on that single island paradise – after arriving there by sea millions of years ago.
Audiences will learn about lemurs' "castaway" history and will be charmed by the animals' expressive faces, ghostly communicative noises and whimsical movements. But they'll also see how lemurs' very existence is threatened by habitat destruction; the loss of their forest homes to logging, mining and "slash-and-burn" farming.
(Earlier this year, a team of scientists drafted an emergency three-year protection plan for lemurs after declaring that 94 percent of lemur species are considered vulnerable, endangered or critically endangered – making them the most threatened mammal group on Earth.)
"Island of Lemurs: Madagascar" follows Dr. Patricia Wright, a professor of biological anthropology at Stony Brook University on Long Island, whose lifelong mission is to help these strange and adorable creatures survive in the modern world.
In 1991, Dr. Wright's study of lemurs spurred Madagascar to create a park system, including Ranomafana National Park, now a UNESCO World Heritage Site that encompasses the home of 12 lemur species, some of which are listed among the world's most endangered animals. Recently, she spearheaded the creation of Centre ValBio, a huge preserve that is a modern hub for multidisciplinary research, training and public awareness, the first in Madagascar.
For her efforts, Dr. Wright is one of six finalists for the 2014 Indianapolis Prize, the world's leading award for animal conservation. (The winner will be announced this summer.)
On Thurs., April 17, Dr. Wright will be at The Maritime Aquarium to speak about her work with lemurs and the making of "Island of Lemurs: Madagascar," which will be shown as part of the event. Tickets for the 7:30 p.m. talk are $20 ($16 for Aquarium members). Reserve tickets at http://www.maritimeaquarium.org or by calling (203) 852-0700, ext. 2206.
As with "Born To Be Wild," Chris Loynd, the Aquarium's marketing director, expects the combination of endearing animals and a strong conservation message – presented in the incredible IMAX format – to make "Island of Lemurs" popular both with families and school groups from across Connecticut and the tri-state area.
"Teachers love 'Born To Be Wild' because they can use it to integrate such topics as conservation, habitat destruction, adaptations, social studies and even persuasive writing into their classroom lessons," Loynd said. "We think 'Island of Lemurs' will offer similar STEM opportunities for schools coming on Aquarium field trips."
"Island of Lemurs: Madagascar" is 39 minutes long and is rated G.
Also showing April 4-June 30 on the Aquarium's giant IMAX screen are "Born To Be Wild" at noon daily and "Great White Shark" at 2 p.m. daily.
Tickets for an IMAX movie at The Maritime Aquarium are $9.50 for adults, $8.50 for seniors (65+), and $7 for ages 3-12. Ages 2 and under, free. To include an Aquarium visit with an IMAX movie, tickets are $24.95 for adults, $22.95 for youths (13-17) and seniors (65+), and $17.95 for ages 3-12. Ages 2 and under, free.
You can purchase advance tickets, view trailers, confirm show times or get more details about The Maritime Aquarium's IMAX movies at (203) 852-0700 or http://www.maritimeaquarium.org.
IMAX®, IMAX® 3D, IMAX DMR®, Experience It In IMAX®, An IMAX 3D Experience® and The IMAX Experience® are trademarks of IMAX Corporation. More information about the Company can be found at http://www.imax.com. You may also connect with IMAX on Facebook (http://www.facebook.com/imax), Twitter (http://www.twitter.com/imax) and YouTube (http://www.youtube.com/imaxmovies).