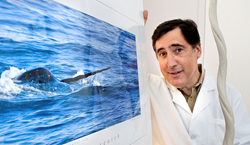 Norwalk, CT (PRWEB) March 27, 2014
It's only natural that Dr. Martin Nweeia, a dentist in Sharon, CT, has an interest in teeth. But he has a particular interest in a tooth of note: the long single spiraling tusk of the mysterious, almost mythical narwhal.
One of the top narwhal researchers in the country, Nweeia will share what he has learned about "the unicorns of the sea" on Mon., April 7 at 8 p.m. at The Maritime Aquarium at Norwalk.
The narwhal (Monodon monoceros) is one of the rarest whales in the world. An Arctic species, narwhals are elusive and mysterious, and very distinct in appearance because of their tusk, which actually is a tooth that grows from the upper jaw of males. The tusks can reach 9 feet long.
(Maritime Aquarium visitors can see a 7-foot narwhal tusk on exhibit through April 7. The rare item is on loan from a Greenwich family that has owned it since long before narwhal protection laws were passed.)
Nweeia is principal investigator and founder of Narwhal Tooth Expeditions and Research Investigation, whose aim is to determine the purpose and function of narwhal tusks. He directs expedition field studies, laboratory analysis and a traditional study of Inuit and Greenlandic elders – all to address the purpose of the narwhal tusk that has puzzled the science world for over 200 years.
Because narwhals are rarely seen and boast an unusual tusk, some people have believed them to be mythical. But they're very real. They're mainly found in large pods in Baffin Bay off Canada and western Greenland. Not counting their tusks, narwhals grow to 13 to 18 feet long – similar to their tusk-less cousin, the beluga whale.
Narwhal tusks are treasured by collectors and by those who seek the ivory. In Canada, the Inuit people may legally harvest narwhals and sell the tusks. However, it is illegal to import the tusks into the United States. (In February 2014, a Maine court convicted a New Jersey man for his participation in a tusk-smuggling operation.)
Dr. Nweeia has a general dentistry practice in Sharon, CT, but also a long interest in dental anthropology. He has spent time looking in the mouths of Indian tribes in the Amazon and children in Micronesia. About 15 years ago, as a lecturer on how animal and human teeth differ, his curiosity turned to narwhal tusks.
Nweeia is a National Fellow of the Explorers Club, and has been awarded grants for his research from the National Science Foundation, the National Endowment for the Arts, Harvard University, the Smithsonian Institution and the National Geographic Society. He was a Graduate Research Fellow in the Department of Anthropology at the Smithsonian Institution, and currently is a research associate in the Marine Mammal Program at the Smithsonian.
His work on narhwals has been featured in several national magazines, and he was one of the investigators included in the 2005 National Geographic documentary "Masters of the Arctic Ice." He also was featured online as National Geographic's "Explorer of the Week" in September 2012.
Tickets for Nweiia's talk are $10 ($8 for Aquarium members).
Moffly Media is exclusive magazine sponsor of The Maritime Aquarium's 2013-14 lecture series, which has three remaining events:

Dr. Patricia Wright, the featured scientist in the new IMAX movie "Island of Lemurs: Madagascar," on Thurs., April 17. (This event includes a screening of the film.)
celebrated zookeeper/ TV host Jack Hanna for two shows on Tues., May 7.
and Weston, CT, author Richard Hyman, who will talk about his expeditions aboard Jacques Cousteau's Calypso, on Mon., June 23.
To reserve tickets or for more details about the narwhal lecture or others in the series, call (203) 852-0700 or go to http://www.maritimeaquarium.org.