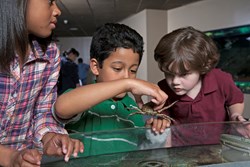 'An animal that doesn't have bones?! Well, how does its body have form? How can it move?' The Scavenger Hunt can get them thinking, instead of just observing.-- Jamie Alonzo,Director of Education
Norwalk, CT (PRWEB) December 11, 2013
Visitors to The Maritime Aquarium at Norwalk can enhance their journey through the animal galleries by bringing along a Scavenger Hunt from the Aquarium's website.
The 20 questions encourage visitors to look for behaviors and adaptations of the Maritime Aquarium's animals, which range from tiny crabs and marsh fish to 300-pound sea turtles and 7-foot sand tiger sharks.
"The Scavenger Hunt is very popular with teachers bringing their students on field trips as an educational resource," said Jamie Alonzo, the Aquarium's director of education. "But it also can be great for parents to bring along on fun family outings, to help focus their children when they're observing the animals, to think about the strategies and physical characteristics that the animals use for survival."
Among the challenges on the Scavenger Hunt are to find: a fish with both eyes on one side of its head; an animal that can grow back missing limbs; an animal that spends most of its time on the bottom; and an animal that blends into its surroundings.
Alonzo noted that often there is more than one animal that can serve as a question's correct answer.
"The questions can stimulate conversation and contemplation," he said. "For example, a child may know what a sea star looks like, but perhaps has never thought about the fact that it's an animal that has no bones. 'An animal that doesn't have bones?! Well, how does its body have form? How can it move?' The Scavenger Hunt can get them thinking, instead of just observing."
The Scavenger Hunt is to be used in The Maritime Aquarium's main galleries, which suggest a tour from Long Island Sound's watershed (with river otters, trout and other near-shore creatures) out into the deeper and deeper habitats of the Sound. The hunt does not include the Aquarium's current special exhibits: "Meerkats," "Africa: From the Desert to the Sea" and the 12th annual "Festival of Lighthouses Contest."
Look for the Scavenger Hunt on the lower left of the Aquarium's home page, which is http://www.maritimeaquarium.org.