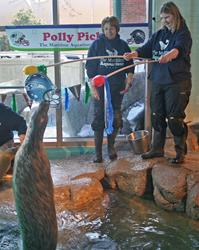 Based on the seals' record, this may mean you should bet on the Patriots. – Dave Sigworth, Maritime Aquarium publicist
Norwalk, CT (PRWEB) January 29, 2015
Polly, a harbor seal at The Maritime Aquarium at Norwalk, has made her pick for Super Bowl XLIX and it is the Seattle Seahawks.
The 27-year-old seal is trained to leap out of the water and touch a "target pole" held by members of the Aquarium's animal-husbandry staff. On Jan. 29, Polly was given the choice of touching two "target poles" – one with an image of a New England Patriots helmet attached to it; the other, a Seahawks helmet.
To prevent any confusion, Polly's choice was decided by two out of three jumps.
New England is favored by oddsmakers to win the game by 1 point.
"Seals are said to look like the dogs of the sea, so it's no surprise that Polly is going with the Super Bowl underdog," said Aquarium spokesman Dave Sigworth, who added that the colored balls at the ends of the two "target poles" were tested beforehand to ensure that neither was improperly deflated.
If it's any consolation for Patriots fans, the Aquarium's seals have proven to be pathetic pinniped prognosticators: they're 0 for 3 in previous attempts to pick the Super Bowl winner. Rasal the seal incorrectly picked the Patriots in 2012. (The Giants won.) And Orange went with the 49ers in 2013 and the Broncos last year (losers, respectively, to the Ravens and Seahawks).
"Based on the seals' record, this may mean you should bet on the Patriots," Sigworth said.
Polly is one of seven harbor seals at The Maritime Aquarium. Their public feedings are offered at 11:45 a.m. and 1:45 & 3:45 p.m. daily.
For more details about exhibits, programs and IMAX movies at the popular Connecticut family attraction, go to http://www.maritimeaquarium.org.