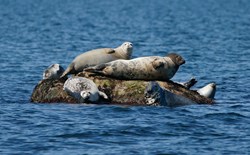 As exciting as it is to see the seals that are exhibited inside the Aquarium, it's truly a memorable experience to see them out in Long Island Sound.– Cathy HagadornMaritime Aquarium research-vessel manager.
Norwalk, CT (PRWEB) February 04, 2014
Journey out this weekend – Feb. 8 & 9 – for the chance to see some of the seals that spend their winter in Long Island Sound by coming along on The Maritime Aquarium at Norwalk's Seal-Watching Cruises.
These invigorating outings aboard the research vessel Oceanic are scheduled for Sat., Feb. 8 at noon and (weather permitting) Sun., Feb. 9 at 1 p.m.
The Aquarium's Seal-Watching Cruises occur many weekends now through late March. That's when the seals are in Long Island Sound, instead of the northern waters that serve as their summer breeding and pupping areas.
The Aquarium's cruises seek out the seals to observe them near the Norwalk Islands as they "haul out" to rest on rocks exposed at low tide. Maritime Aquarium educators also will point out wintering waterfowl on the Sound, including buffleheads, mergansers, Brant geese, long-tailed ducks and other feathered seasonal visitors.
Dates and departure times vary by low tide. For the full Seal-Watching Cruise schedule, go online to http://www.maritimeaquarium.org.
"You don't have to drive way up to Maine or Cape Cod to see seals. Our cruises let you get close to them right here in Connecticut," said Cathy Hagadorn, vessel manager of the Oceanic. "As exciting as it is to see the seals that are exhibited inside the Aquarium, it's truly a memorable experience to see them out in Long Island Sound. That experience also reminds us how important the Sound is as a habitat for our marine-mammal friends."
Previous years' cruises have identified two main species of seals in the Sound: harbor seals and gray seals. All seals are federally protected by the Marine Mammal Protection Act of 1972, which limits how closely anyone may approach them.
During the 2.5-hour cruises, Maritime Aquarium educators will talk about the seals' natural histories and use artifacts to discuss seal anatomy. And they'll discuss what happens with the Sound's general marine population during the winter: who stays, who migrates out and who migrates in (besides the seals).
While out on the water, participants can help educators with plankton and water-chemistry samplings. Data collected during the cruises is added to the Long Island Sound Biodiversity Project, which is an ongoing census of the Sound's animal species. This online database is sponsored by the Aquarium and includes students in collecting data on the physical and biological contents of Long Island Sound.
Bring binoculars, cameras and – because the best viewing is out on the Oceanic's open deck – plenty of warm clothes! The cruises offer memorable family fun but please note that all passengers must be at least 42 inches tall.
Tickets for a Maritime Aquarium Seal-Watching Cruise are $22.95 (or $17.95 for Aquarium members). Weekday charters for school groups are available.
Advance ticket purchases are strongly recommended; walk-up tickets will be sold, space permitting. Get advance tickets by calling (203) 852-0700, ext. 2206, during weekday business hours or by going online anytime to http://www.maritimeaquarium.org.