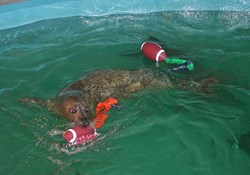 Norwalk, CT (PRWEB) January 31, 2014
Orange the harbor seal at The Maritime Aquarium at Norwalk has made her pick for Super Bowl XLVIII and it is the Denver Broncos.
The 31-year-old seal is trained to retrieve items placed into the exhibit by her trainers.
On Thurs., Jan. 30, Orange was given the choice of retrieving two footballs – one with an orange lei and Broncos pennant attached to it; the other, connected to a green lei and Seattle Seahawks pennant.
To prevent any confusion, Orange's choice would be decided by two out of three retrievals. She decisively went for the Broncos' ball twice.
"There's no truth to the suggestion that she picked the Broncos' ball because it has an orange lei and her name is Orange," said Aquarium spokesman Dave Sigworth. "She's just a huge Peyton Manning fan."
If it's any consolation for the folks in Seattle, the Aquarium's seals have proven to be pathetic pinniped prognosticators: they're 0 for 2 in previous attempts to pick the Super Bowl winner.
"Based on their record, this may mean you should bet on the Seahawks," Sigworth said.
Orange is one of seven harbor seals at The Maritime Aquarium. Born in 1982, she was stranded in New England and rehabilitated at the National Aquarium in Baltimore. She lived at the Shedd Aquarium in Chicago from 1991 until 2005, when she came to The Maritime Aquarium. Her favorite NFL team is the Dolphins. Her favorite players are lineman George Seals (1964-73), defensive back Mike Bass (1967-75) and wide receiver Flipper Anderson (1988-97).
Public feedings of the seals at The Maritime Aquarium are offered at 11:45 a.m. and 1:45 & 3:45 p.m. daily. Thursday's Super Bowl selection was actually a fun variation on a daily behavior in which Orange retrieves and "recycles" an empty water bottle.
For more details about Aquarium exhibits, programs and IMAX movies, go to http://www.maritimeaquarium.org.