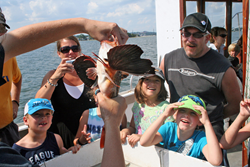 'Our best exhibits within the Aquarium can't top the immediacy and lasting impact of seeing dozens of animals come up out of the water right in front of your eyes.' – Cathy Hagadorn, research vessel manager
Norwalk, CT (PRWEB) May 14, 2014
Get a deeper new appreciation for Long Island Sound when you meet some of its resident creatures, brought up wriggling and wet right before your eyes, aboard a Marine Life Study Cruise offered by The Maritime Aquarium at Norwalk.
A new season of Marine Life Study Cruises offers memorable introductions to fish, crabs, skates, squid and other animals brought aboard the Aquarium's research vessel.
The study cruises will depart at 1 p.m. Saturdays through June 28. They'll push off at 1 p.m. daily in July and August.
"Any boat ride is fun," said Cathy Hagadorn, The Maritime Aquarium's research vessel manager. "But our study cruises offer the bonus of giving participants an amazing window into what's below the waves."
During each 2.5-hour Marine Life Study Cruise, animals are brought up from different water levels and bottom habitats of the Sound. A video microscope provides a magnified look at wriggly plankton gathered at the sunlit surface. A biodredge reveals a hidden world of sponges, mollusks and tiny crabs. And everyone inspects the trawl net's bounty: varieties of fish and crabs, skates, lobsters, sea stars, squid and always a few surprises.
"The best way to inspire stewardship of Long Island Sound is for people to see firsthand the diversity of marine life that lives in the Sound," Hagadorn said. "Our best exhibits within the Aquarium can't top the immediacy and lasting impact of seeing dozens of animals come up out of the water right in front of your eyes."
Maritime Aquarium educators involve participants in the processes, from sorting through samples to helping to pull in the trawl net and returning animals to the water.
Besides being fun and eye-opening, Marine Life Study Cruises also contribute to local scientific research. Water-chemistry and weather readings are taken. And details about the animals brought onboard are entered into the Aquarium's Long Island Sound Biodiversity Project, a database of physical and biological features available online to teachers and researchers.
Also during the study cruises, as part of a Horseshoe Crab Census conducted by Sacred Heart University in Fairfield, The Maritime Aquarium tags and records data about all horseshoe crabs collected.
Cost of a Marine Life Study Cruise is $22.95 per person ($17.95 for Maritime Aquarium members).
Hagadorn said the cruises are perfect for family fun in Connecticut. However, all passengers must be at least 42 inches tall.
Reservations are strongly recommended; walk-up tickets will be sold space permitting.
Marine Life Study Cruises also are available daily by charter for schools on field trips, summer camps, Scouts and other groups.
Cruises depart from the dock near the Aquarium's IMAX Theater entrance.
To reserve your spot on a Maritime Aquarium Marine Life Study Cruise or for more details, go to http://www.maritimeaquarium.org or call (203) 852-0700, ext. 2206.