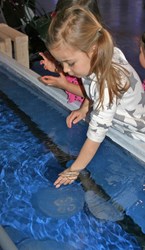 'We're offering this exhibit to demonstrate that there are jellyfish that you can touch without being stung.' – Judith Bacal,Maritime Aquarium exhibits director
Norwalk, CT (PRWEB) January 13, 2014
The Maritime Aquarium at Norwalk is turning conventional beach wisdom upside down, by inviting its visitors to do something they've been told not to do all their lives: touch a jellyfish.
Beginning Sat., Jan. 18, a special "Jiggle A Jelly" exhibit will let visitors safely touch live moon jellyfish, one of the most common species in Long Island Sound.
"Most people who have seen jellyfish at the beach have gone out of their way to avoid them; to give them a very wide berth," said Judith Bacal, the Aquarium's exhibits director. "We're offering this exhibit to demonstrate that there are jellyfish that you can touch without being stung."
The special "hands-on" exhibit of jellies will be open near the Aquarium's Jellyfish Culture Lab on weekends and holidays from Jan. 18 through April 20 – and also daily during school vacation weeks Feb. 17-21 and April 14-18.
Maritime Aquarium volunteers will staff the exhibit, encouraging visitors to use two fingers to gently touch the top of the jellyfishes' gelatinous body or "bell."
Moon jellies do have tentacles but their stings are generally harmless to people.
Letting visitors get close to jellyfish is nothing new for The Maritime Aquarium. A mesmerizing gallery featuring moon jellies, sea nettles, lion's mane and other live species of jellyfish is now in its 19th year at the Aquarium and remains among the most popular and memorable exhibits. Plus, displays of jellies in their various life stages in the Jellyfish Culture Lab let visitors see how the Aquarium keeps a year-round supply of the seasonal creatures on exhibit. But a jellyfish "touch experience" hasn't been offered before.
Moon jellyfish (Aurelia aurita) are common in Long Island Sound and the Atlantic Ocean, growing to dinner-plate size during the warmth of summer. Short tentacles rim their bell, and four "oral arms" extend underneath. Moon jellies are colorless and translucent, except for four central horseshoe-shaped reproductive organs.
"Jiggle A Jelly" will be free with Maritime Aquarium admission.
The Maritime Aquarium is a not-for-profit organization whose mission is to educate visitors about – and to create stewards for – Long Island Sound. It accomplishes this by allowing visitors to get close to more than 250 species native to the Sound and its watershed, including sharks, seals, sea turtles, river otters, jellyfish and other animals. One of the top places for family fun in Connecticut, the Aquarium also features hands-on educational programs and displays, public study cruises out onto the Sound, and Connecticut's largest IMAX movie theater, with a screen that's six stories high.
Learn more at http://www.maritimeaquarium.org or by calling (203) 852-0700.