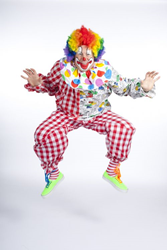 "This is my fifth year as a Distinguished Clown. It's a really fun opportunity, to dress up, join the parade and make kids smile.
Atlanta, Georgia (PRWEB) November 12, 2015
Around the Incentive Solutions office, President Mark Herbert is known for his infectious laugh and inspiring leadership qualities. Each year, he takes that upbeat attitude with him to the annual gathering of Children's Hospital of Atlanta (CHOA)'s Distinguished Clown Corps. Herbert and his fellow Distinguished Clowns don their red noses, big shoes and colorful outfits to make children smile and raise money to help improve healthcare services at CHOA. The fundraising recently kicked off for 2015 and donations are being accepted.
"This is my fifth year as a Distinguished Clown," Herbert says. "It's a really fun opportunity, to dress up, join the parade and make kids smile." Herbert first heard about the Distinguished Clown Corps through a business group. Most of the Clown Corps consist of business executives and community leaders who raise money for CHOA through their organizations.
The only requirement for joining the Clown Corps is that every member must raise or donate at least $1,500. Do Distinguished Clowns have to go through training or "clown school" to participate? "No," laughs Herbert, "we don't have to do any of that. The outfits and make-up are provided to us. We just provide ourselves, our time and our donations." Distinguished Clowns greet children at CHOA with laughter and cheer then join the Children's Parade to give out treats along the route.
The Distinguished Clown Corps has collectively raised over one million dollars since its founding in 1991. All money raised this year will go toward CHOA's 2015-2016 Friends fundraising goals, which include the addition of new staff members at the Stephanie V. Blank Center for Safe and Healthy Children, as well as three new critical care fellows at Egleston hospital's Pediatric Intensive Care Unit (PICU), which is one of the highest volume units in the nation.
The main goal of the Clown Corps is to raise money that helps elevate the quality of healthcare Atlanta's children receive. Also important is the enthusiasm, positivity and holiday cheer that Distinguished Clowns offer CHOA patients when they meet and interact with the children in person. Joy and laughter can be healing, which is exactly why Mark Herbert plans to participate in the Distinguished Clown Corps for the rest of the foreseeable future.
Those who are unable to join the Distinguished Clown Corps can always support their cause by donating here to help them reach their fundraising goals.
Incentive Solutions, Inc. was founded in 1994 and is based in Atlanta, GA. Part of The ISI Group, consisting of Incentive Solutions, Loyaltyworks and Travel Solutions, Incentive Solutions offers online rewards, travel incentives and debit card reward programs. Since its creation, Incentive Solutions has been an innovator in the incentive industry by utilizing emerging online technologies that help companies increase sales, engage and motivate employees, encourage customer loyalty, create positive work environments, and enrich sales channel relationships.
Incentive Solutions
1-866-567-7432
2299 Perimeter Park Drive, Suite 150
Atlanta GA 30341