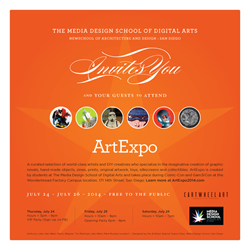 San Diego, CA (PRWEB) June 30, 2014
ArtExpo is a curated selection of emerging artists and DIY-creatives who create hand-made objects, original artwork, silkscreens and collectibles.
Taking place July 24-26,2014, ArtExpo is created by students of The Media Design School of Digital Arts at the NewSchool of Architecture and Design and takes place during Comic-Con and Gam3rCon at San Diego's historic Wonder Bread Factory in the heart of East Village.
Curated by Mark Murphy of Murphy Design, event information is as follows:
Location: 121 14th Street, San Diego 92101.
Free to the public.
Thursday, July 24
Hours: 3pm – 9pm
VIP Party = Sign Up on Facebook
Friday, July 25
Hours: 10am – 8pm
Opening Party 5pm - 8pm
Saturday, July 26
Hours: 10am – 6pm
###
ArtExpo Class Description
Experience a real-world, multi-disciplinary, studio class that will concept and produce the first annual ArtExpo to be shared with a international audience visiting San Diego during Comic-Con 2014. Each member of this class will be part of an elite team responsible for a 3 day ArtExpo featuring concept development, space design, exhibit design, traffic-flow, graphics, marketing and public relations components essential for resume building.
###
Mark Murphy, Curator
Mark Murphy has curated thirteen major art exhibitions during Comic-Con over the years and continues to intermingle artists from around the world with local San Diego artists. The spirit of community is always at the heart of Mark Murphy's exhibitions, as thematic displays unite the public with creative installation. ArtExpo was originally pitched to the New School of Architecture as a student driven art event—"One part class, one part internship and many parts passionate exchange the students work hard each day to discover great artists, sponsors and participants while creating original graphics to promote the event." Mark Murphy is also the owner of Murphy Design a graphic design firm who specializes in branding, packaging and book publishing creating books for Cartoon Network, Clint Eastwood, Brandon Boyd, Green Day and hundreds of artists from around the world.