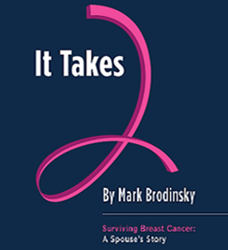 When you speak from the heart, everyone who has one buys in.
Baltimore, Maryland (PRWEB) October 03, 2013
Just days after the worldwide launch, Mark Brodinsky, author, speaker, blogger and Emmy-Award winning TV Producer, reaches # 1 Best Seller status on Amazon with, It Takes 2. Surviving Breast Cancer: A Spouse's Story. The e-book and paperback editions provide timely and dramatic insight and inspiration during Breast Cancer Awareness Month in October. It Takes 2, is based on Mark's emotional journal, chronicling his wife Debbie's battle with breast cancer, from diagnosis to the anniversary of her first year cancer-free. This moving and inspirational story is a rare look inside the journey of a breast cancer patient's struggle, told from the perspective of her closest confidant and caregiver — her husband. The couple's journey was followed by thousands on the pages of Caringbridge and Facebook.
Mark's goal is to give back. "When you speak from the heart, everyone who has one buys in," is how the story begins. That's exactly what Mark does in the pages of It Takes 2, intimately documenting the couple's breast cancer journey together, including his wife's brave and dramatic decision to sacrifice it all to fight the cancer, and her courage, strength and fortitude during her recoveries from multiple surgeries and setbacks. It's a very personal story, from the heart, written with Mark's unique and emotional insight into cancer and caregiving.
It's not every day the man wears his emotions on his sleeve, but Mark wanted to document and to share, so that others heading down the same road and fighting back against the "beast" could set expectations, be inspired and understand how gratitude, appreciation and love can make a true difference in the healing process, both physically and emotionally.
It Takes 2 is truly one of a kind.
Mark is also giving back, not just in words, but in action. A portion of proceeds from the book will be donated to cancer-related organizations and foundations. Visit amazon.com/author/markbrodinsky for more information.
Mark Brodinsky's extensive experience both in front of and behind the camera make him an excellent candidate for media interviews, or as inspirational speaker. Contact Lisa Norris at 443-824-4246 or visit http://www.spouses-story.com for more information.