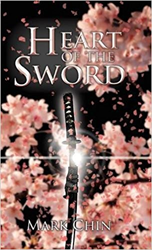 SINGAPORE (PRWEB) July 06, 2017
Having always loved the epic story genre, which fed his love of history and adventure in far-off lands, author Mark Chin's immersive historical and cultural experiences in Japan provided him insight into the seminal Bakumatsu period, about which little is known in the West. Woven over a five-year period, "Heart of the Sword" (published by Partridge Singapore) showcases a grand story peopled with vivid characters, pushing the book to a level of intricate complexity which in turn gives it a unique, realistic richness: the reader lives the story.
It is a time of civil war in Japan. The old ways are passing, their hold undermined by intimations of a vastly changing and rapidly industrializing world outside the island nation's feudal borders. Two people, an invincible assassin and the waif who will become his wife, are pushed by circumstance into an improbable relationship which will help change their world and shape the destiny of a nation.
Based loosely on historical personages and events, "Heart of the Sword" is an epic, sweeping tale of adventure, mystery, with a powerful and compelling love story at its core. Readers of all ages would find much appeal in the book, given its episodic structure of self-contained stories branching off from the main narrative. This is a book filled with romantic acts, heart-pounding action and characters with intensely universal qualities audiences in this age and time can empathize with.
An excerpt from the book:
"There is a difference between justice and revenge. I fight to protect this country, to protect a way of life, to uplift an ideal of honor, dignity, and virtue for all people. I fight so that women such as yourself can walk to the marketplace in the morning unmolested by thieves, so that children such as Eiji can play without fear of abduction, so that young women like Naoya aren't forcibly pressed into the service of brothels. No, Tokio. My creed does not apply to you. It has never and will never serve a selfish wish for revenge."
"Heart of the Sword"
By Mark Chin
Hardcover | 5.5x8.5in | 724 pages | ISBN 9781482879605
Softcover | 5.5x8.5in | 724 pages | ISBN 9781482879599
E-Book | 724 pages | ISBN 9781482879612
Available at Amazon and Barnes & Noble
About the Author
Mark Chin's life experiences have been shaped by a variety of exotic places and professional interest in operations, strategic planning, project management, and client relations. Although these experiences did not qualify him to write, they enabled him to observe the human condition, which comes across in his fiction as reflections of reality and sometimes fantasy.
Partridge Singapore, an imprint in partnership with Penguin Random House Singapore, aims to help writers in Singapore, Malaysia, and the rest of Southeast Asia become published authors. Partridge Singapore gives authors in the region direct access to a comprehensive range of expert publishing services that meet industry standards but are more accessible to the market. For more information or to publish a book, visit http://www.partridgepublishing.com/singapore or call 800 101 2657 (Singapore) or 1 800 81 7340 (Malaysia). For the latest, follow @PartridgeSG on Twitter.