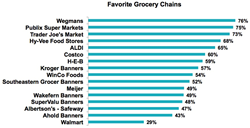 Louisville, Colo. (PRWEB) April 13, 2016
Findings from a new large-scale study of more than 10,000 consumers conducted by Market Force Information® (Market Force) revealed that Wegmans is America's favorite grocery retailer, followed by Publix Super Markets and Trader Joe's. It's the first time in four years that Trader Joe's did not rank first in the grocery study.
Wegmans Rises to the Top
For the rankings, Market Force asked participants to rate their satisfaction with their most recent grocery shopping experience and their likelihood to refer that grocer to others. The results were averaged to rank each brand on a Composite Loyalty Index.
After not earning enough votes to make the 2015 list, Wegmans garnered double the votes in 2016, resulting in a score of 76%, enough to secure the top spot. Publix ranked second for the fourth year with an earned a score of 75%, followed by Trader Joe's, which slipped 5 percentage points for a score of 73%. Hy-Vee and ALDI rounded out the top five. [See Graph 1].
Wegmans, founded in 1916, is known for fresh produce, reasonable prices and massive stores. The Rochester, New York-based chain is steadily expanding and winning over more devoted customers along the way. Its focus on employee training to ensure memorable customer experiences has been a winning strategy that creates superfans eager for a new location to open near their homes.
Publix Has Best items, ALDI Best Prices
Market Force sought to uncover which brands excel in operational and service categories that set leading grocers apart. Publix and Wegmans led in most areas, including the ability to find desired items, cleanliness and specialty department service. ALDI was the price leader, followed by WinCo and Costco. Trader Joe's, known for its friendly service, ranked first for cashier courtesy. ShopRite, Meijer and Kroger offer the best sales and promotions. Hy-Vee also performed well across the board, ranking in the top five in many categories [See Graph 2].
Organic and Local Foods Taking Root
Shoppers are increasing seeking local and organic foods while grocery shopping. The study showed that 49% of consumers prefer to purchase organic items when given a choice. Produce, meat and dairy were the most frequently purchased organic products, followed by packaged canned foods, packaged dry foods and frozen foods. Less popular were organic baby, paper and personal hygiene products. [See Graph 3]. Purchases of organic options for all but two categories increased from 2015, indicating a growing importance of organic selections. A majority (58%) of shoppers also indicated that locally sourced meat, produce and dairy products are important.
Prepared Foods Warming Up
As more grocery shoppers are crunched for time, prepared foods continue to be a popular choice, with two-thirds indicating they purchased some form of prepared food in the previous 30 days. Forty-three percent did so once a month, 19% once a week, and 8% twice a week or more. Convenience was overwhelming the most popular reason for purchasing prepared foods, but many also turn to pre-made foods as an alternative to dining out or because of the quality of food offered. [See Graph 4].
The most common types of prepared meals purchased were ready-to-eat main courses and ready-to-eat side dishes/appetizers/desserts. Ready-to-cook main courses and ready-to-cook side dishes/appetizers/desserts ranked third and fourth, respectively.
Home Delivery and Click & Collect Not Yet Widely Used
Despite the rise in alternative shopping and delivery methods, 99% still do their grocery shopping traditionally – a trip to the store to buy and bring home products. In the past 90 days, just 5% ordered online for home delivery, 2% ordered online and picked up groceries in-store, and 2% used "click and collect" – ordering online and collecting through the grocer's drive-up. [See Graph 5]. Of the 4% who have ever tried click and collect, 73% were satisfied with the experience and nearly half are repeat users.
Apps and Circulars Holding Steady
Market Force found approximately half of consumers used a grocery app in the previous 90 days. The most prevalently used apps are those offered by specific grocers, while a nominal amount of consumers opt for third-party apps such as Checkout 51, SavingStar and Yummly. Consumers are primarily using apps to obtain coupons, followed by scanning barcodes, comparing prices and availability, and creating grocery lists.
On the more low-tech end, printed circulars have not diminished in popularity. About half of consumers are reviewing them once a week, and 14% are reviewing them three to four times a week. They're also influencing where and how consumers shop. Seventy-nine percent said they plan their shopping trips based on what is in the circulars, 65% clip coupons from them and 61% use them to compare prices between grocers. [See Graph 6]. Of particular interest to grocers is that nearly two-thirds shop at a specific grocer because of the promotions offered in a weekly circular.
Survey Demographics
The survey was conducted online in February 2016 across the United States. The pool of 10,025 respondents represented a cross-section of the four U.S. census regions, and reflected a broad spectrum of income levels, with 54% reporting household incomes of more than $50,000 a year. Respondents' ages ranged from 18 to over 65. Approximately 67% were women and 33% were men.
Follow Market Force's Grocery Insights page on LinkedIn for the latest insights, timely discussions, commentary and industry news.
About Market Force Information
Market Force Information® provides location-level measurement solutions that help businesses protect their brand reputation, delight customers and make more money. Solutions include customer experience surveys, mystery shopping and contact center data integrated on one technology and analytics platform. Founded in 2005, Market Force has a growing global presence, with offices in the United States, Canada, United Kingdom, France and Spain. It serves over 350 clients that operate multi-location businesses, including major retailers, restaurants, grocery and convenience stores, financial institutions and entertainment. More information can be found at http://www.marketforce.com.