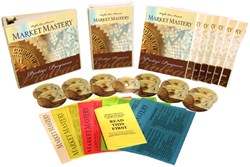 (PRWEB) January 27, 2014
Market Mastery 2.0 is a Trade Alert Software developed by Bill Poulos, a world famous trading expert. This is known as the ultra powerful software because of its superfast filtering function that drills down thousands of stocks and provides only the best to the traders on a daily basis. This feature also guides the traders towards the most profitable directions. The software monitors the stock markets continuously and sends alerts to the traders that would be helpful for the traders to successfully place the trades.
A Market Mastery Review speaks about the intelligence of the software that can adapt to a variety of market conditions, provide updates according to user preferences and reduces the risk during the trading time. This is an independent software that can be used by traders with various proficiency levels. It can be used on any trading platform without the need for any broker. The Market Mastery 2.0 trading program also comes with various instructional DVDs, blueprints, trading manuals and guides with trading examples. The best thing about this software is that it discloses all the parameters that are behind various methods that help drive the software.
In order to know more about the Market Mastery Review, traders can avail the excellent opportunity of attending the webinar training. At the end of the training program traders will come to know how to win up to 84% of the time trading the safest stocks in 10 minutes or less per night. Bill Poulos would explain his "3 Steps to market mastery" and many other key trading secrets that would help traders increase their profit potential overnight. Interested traders may register today and get a $500 worth Trading Blueprint for free.
To register for Free Live Training and to know more about the webinar by Bill Poulos visit the website link here.
About Bill Poulos
Bill Poulos is a renowned trading expert with over 3 decades of experience in trading. Bill has introduced and developed a variety of practical trading methods and proven systems. There are thousands of students worldwide who are currently being trained by Bill himself. Bill provides realistic trading education with ongoing support for his students so as to help his students benefit from his "timeless" strategies.