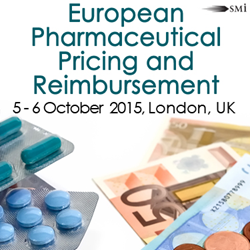 London (PRWEB UK) 27 August 2015
SMi's 21st annual European Pharmaceutical Pricing & Reimbursement conference will provide the ideal platform for payers and other decision makers from both public and private organisations, to benchmark with peers internationally and provide pharma companies with an invaluable insight into the decision making processes and approaches of vital stakeholders.
The two-day conference programme will help further your understanding and enable you to develop best practice approaches to complex market access challenges, with the ultimate goal of encouraging innovation and improving patient access to novel and powerful medications though case studies presented by GSK, Sanofi, MSD and more who will be presenting at the conference. Unique perspectives will be provided on:
The impact of Biosimilars and Orphan Drugs on the the market with case studies from MSD and Quintiles
Tiered pricing options with a case study from GSK
Case studies in Reforms with Sanofi sharing their recent experience
New models for European reimbursement
Health Technology Assessment policies
Changes in UK P&R policy following the UK elections with presentations from industry bodies such as EMIG and the ABPI
Case studies at SMi's 21st annual European Pharmaceutical Pricing & Reimbursement conference include:
Analysing the characteristics of biosimilars and the development of the EU's biosimilars market
Alexander Roediger, Director of European Union Affairs, MSD
Tiered Pricing
Ken Walsh, Head of Emerging Markets Pricing, GSK
Market Access in Turkey: Risks and opportunities in the post Healthcare Transformation Era
Toros Sahin, Head of Market Access & Health Economics, Sanofi
To view the full session details, complete speaker line-up and two-day conference programme, visit http://www.pharmaceuticalpricing.co.uk/prweb
The event which has now been running for over 2 decades will provide exclusive case studies on the latest HTA regulation developments and other challenges associated to different geographical areas - including the UK, Germany, Turkey, Italy, Japan and more.
Plus, don't miss the interactive post-conference workshop:
HTA Uncovered
Workshop Leaders: Anke Van Engen, Principal - Advisory Services & Janice Haigh, Practice Leader - Market Access, Quintiles | 08:30 - 12:30, 7th October 2015, London, UK