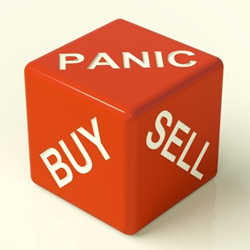 The market correction forecasters are doing what is right for their clients, which is to protect their assets at a time when everyone else is losing them.
Boston, MA (PRWEB) November 25, 2014
For both individual and institutional investors on Wall Street, October 2014 was a particularly difficult month. In the middle of the month, the Reuters news agency reported that investors had taken a less than bullish stance on stocks listed on the New York Stock Exchange (NYSE) as well as on the NASDAQ (1). Hedge fund managers saw their portfolios take a dive as scores of equity securities were furiously sold off by investors who hastily reacted at comments from the Federal Reserve about delaying interest rate increases that had been planned for months (2).
By October 21, market analyst were busy assessing the damage on Wall Street: The benchmark S&P 500 index managed to pull back by nearly 10 percent in a single week of trading (2). Technical analysts focused on indicators that signaled a drop by the S&P 500 below 1,900 points, which managed to break below the psychological level spread across the 200-day moving average (1).
With such sharp selloffs on Wall Street, opportunistic investors were looking for a certain event that they thought should have taken place next; cheap stocks (3). The problem with this scenario, which is favored by investors who seek to profit from bear markets, is that it never arrived. Only a few of the most heavily traded shares managed to offer investors the attractive values they had hoped for, but the majority of stocks remained expensive.
Writing for MarketWatch, finance reporter Anora Mahmudova cited the Shiller Price to Earnings (P/E) index, which is often used in stock price valuation inquiries (3). The historical overall average value of the Shiller P/E on a cyclically adjusted basis (4) is 16.5. After the October selloff on Wall Street, the Shiller P/E stood at 24.9. To this effect, both value-based and technical investors can agree on one thing: Stocks are overpriced.
"What we are seeing in the markets is not confined to equity securities on Wall Street," explains Rocco Beatrice, Managing Director of the asset management and estate planning firm Estate Street Partners, LLC. "There are quite a few other investments that are very pricey now. What is happening to stocks is also happening in government bonds: They are just too expensive. As a result, a lot of cash is being placed on the sidelines."
Mr. Beatrice's firm also operates UltraTrust.com, a website that advises individuals on several financial topics such as asset protection, irrevocable trusts and retirement planning. Continuing his comments on the October selloff on Wall Street, Mr. Beatrice explains: "When using the Shiller P/E tool to evaluate stocks, we find that many of them are overpriced by as much as 50 percent. This would naturally make investors very cautious because we know that overvalued stocks tend to bring negative returns. The way we see it, a single stock investment that is overvalued by 20 percent could result in a loss of 3.6 percent in just one year."
As Mr. Beatrice pointed out, governments bonds are also expensive at this time. What should investors do at this time? It turns out that the traditional safe havens are also going through a period of uncertainty. The values of gold and other commodities are plunging, and analysts who focus on emerging markets are not seeing a silver lining (4). To the average investor, it may seem as if alternative investments are scarce at the moment, but such an assessment of the current situation ignores an important method of investment: Tactical asset allocation.
"One of the problems with the efficient market hypothesis is that it does not fully account for what is happening now," explains Mr. Beatrice. "All investments require a certain level of risk adjustment, but under the current situation the average investor would have completely run out of options. With stocks floating at historically expensive levels, the efficient market theory is simply not very efficient. Tactical asset allocation is our investment strategy of choice in moments such as the present. Efficient market theories tend to be too dynamic for their own good. What we are seeing now with overinflated stocks is that the markets are behaving in a manner that is simply not efficient. This is when tactical asset location comes in and helps investors get through times like the present."
In conclusion, Mr. Beatrice explains: "Our firm focuses on effective asset management and protection. For this reason, our products and advice are focused on making sure that our clients are not exposed to issues such as market anomalies and efficiencies. Investing in expensive stocks is not conducive to efficient asset management or protection; in fact, buying overpriced stock is a very risky endeavor that we simply cannot endorse, especially when we can help our clients with tactical asset allocation strategies."
Mr. Beatrice highlights some of the principles of wealth management observed by Estate Street Partners and UltraTrust.com: "We essentially begin with our clients' personal financial history and their responsibilities before going into realistic objectives. The goals will differ, but the most common ones tend to be income, wealth protection, estate planning, and time horizon. What ties all these factors together is risk mitigation. Once we establish one or two strategies to ensure that our clients are able to withstand market corrections, producing returns becomes a lot easier. We discover and create value, which is not something that can only be accomplished with proper fund management. Algorithms and esoteric trading should never be a part of a sound wealth management strategy."
About Estate Street Partners (UltraTrust.com):
For 30 years, Estate Street Partners has been helping clients protect assets from divorce and frivolous lawsuits while eliminating estate taxes and probate as well as ensuring superior Medicaid asset protection for both parents and children with their Premium UltraTrust® Irrevocable Trust. Call (888) 938-5872 to learn more.
#
1. Reuters, October 13, 2014 (reuters.com/article/2014/10/13/us-markets-global-idUSKCN0I200D20141013)
2. Market Realist, October 17, 2014 (marketrealist.com/2014/10/hedge-funds-favorites-take-dive-wall-street-sell/)
3. MarketWatch, October 21, 214 (marketwatch.com/story/last-weeks-selloff-hasnt-managed-to-make-stocks-any-cheaper-2014-10-21)
4. Financial Times, November 2, 2014 (lexicon.ft.com/Term?term=cyclically-adjusted-PE-ratio-_-Shiller-PE-_-CAPE)