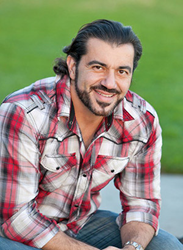 The truth is that there are a lot of free and low-cost ways to get more clients and most of them are so simple that you'll probably kick yourself for not knowing them sooner.
Chino Hills, CA (PRWEB) March 01, 2014
Marketing expert and founder of the fitness boot camp franchise Fit Body Boot Camp, Bedros Keuilian, reveals his best eight marketing tips in an effort to teach personal trainers with an entrepreneurial spirit how to market a fitness boot camp business more effectively. Hoping to save personal trainers and new business owners trouble from spending too much on advertising, Keuilian says that there are plenty of ways to do creative marketing without having to hire or consult with a marketing team.
He explains, "A lot of personal trainers and new fitness business owners out there seem to think that they have to spend a lot on advertising and marketing to get the word out about their business, but the truth is that there are a lot of free and low-cost ways to get more clients and most of them are so simple that you'll probably kick yourself for not knowing them sooner."
Here are Keuilian's eight tips for marketing a fitness boot camp business more effectively:
1. Be a passionate and enthusiastic personal trainer while making sure to deliver an amazing experience. Most people don't like working out or exercising, so it's your job to show them how much fun working out in a group environment can be. Keep the energy high.
2. Encourage your clients to bring in referrals by creating a referral program that rewards clients for the friends and family that they bring in or print out "bring-a-friend" certificates and give them to your new clients when they sign on. Easy referrals.
3. Create a trial offer for people to try out your boot camp before they join. Similar to the type of deals like Groupon and LivingSocial are known for. That will give people an opportunity to test out your camp and give you the same opportunity to wow them with your program.
4. Offer to train family, friends, and loved ones for free or a discounted rate in exchange for their referrals and testimonials. You'll gain social proof that your program works and a constant surge of new leads to sell your program to. You can also offer this to those clients who may not be able to afford your services.
5. Host a grocery store tour and invite members of the community out to learn better ways to shop and eat. This will help to position you as the local health and fitness expert in your area and allow you to meet more people. Show them ways they can still eat well and lose weight.
6. Start collecting email addresses of past, current, and potential clients and send them a newsletter or funny fitness anecdotes every other week. Fitness email marketing is a great, cost effective way to gain new clients and reactivate old ones.
7. Use social media sites to your advantage and post before and after photos of your clients. Then reach out to those who like or comment and offer them to come in for a class or session.
8. Get out there and talk to other local business owners. Partner up and create a strategic plan to support each other's businesses with referrals. Go after places that you think your boot camp clients might like and offer to promote their business to yours. Then you can ask for them same in return.
About Keuilian Inc.
Keuilian Inc. (est. 2007) was founded by fitness marketing and business consultant, Bedros Keuilian, who has been named the "hidden genius" behind several of the biggest names in the fitness industry. In addition, he is also the founder of the popular fitness marketing blog, PTPower.com, and founder and CEO of the indoor fitness boot camp franchise, Fit Body Boot Camp.
To find out more about Bedros Keuilian and his fitness boot camp franchise, please visit http://www.ptpower.com/ and http://www.myfitbodybootcamp.com/.