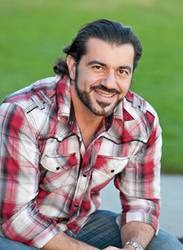 Learning how to market your boot camp or personal training studio is an essential part in growing it and making it a success...
Chino Hills, CA (PRWEB) May 05, 2014
Every business needs a good marketing plan in place, without one- it's hard to attract new customers and grow profits. That is why Bedros Keuilian, a fitness industry insider and the founder of the Fit Body Boot Camp franchise, wanted to reveal his best advice on how to market a personal training business more effectively in his new "Fitness Marketing 101" video.
"Learning how to market your boot camp or personal training studio is an essential part in growing it and making it a success," Keuilian explains. "If people don't know that your studio is out there and that it's solution that they've been looking for, then they won't know to come to you when they're ready to lose weight and get in shape. You've got to make marketing your fitness business a top priority and try to work on it everyday because doing so will get you all the clients you could ever want or need."
"Fitness Marketing 101" recommends that fitness business owners should figure out the cost of attracting a new client before they try to invest in any expensive advertising or marketing campaign. Budgeting is a big part of running a successful business so knowing how much a new client costs helps the personal trainer to know how much to spend on acquiring them.
Next, the new video suggests that if fitness business owners do not already have a website up and running then personal trainers are losing out on a lot of potential clients. The same goes for social media sites like Facebook and Twitter- if a personal trainer does not have one setup for their business then their marketing will suffer and budget will run dry. Social media sites are the most cost effective way to spread the word about a service or a product, and when personal trainers do not take advantage of it they lose out of a lot of business.
Keuilian says, "If you really think about it, most of your future clients are on Facebook right now and if you're not tapping into your market then you may be losing out on some of your most loyal and best paying customers. With minimal effort and funding, Facebook allows you to reach a huge audience that you wouldn't have had the opportunity to if you went through traditional advertising avenues."
One important tip that Keuilian's new video wants to leave personal trainers and fitness business owner with is this: Make marketing a part of your daily routine so that you never have to worry about when and where your next clients are going to come from. Do a little something everyday to spread the word about your business, whether it's a post on Facebook, an email blast to past, current, or potential clients, or going out and talking to people on the street.
For more advice on marketing a fitness personal training business, please visit Keuilian's blog here.
About Keuilian Inc.
Keuilian Inc. was founded by fitness marketing expert, Bedros Keuilian. Keuilian has been called the "hidden genius" behind many of the biggest names in the fitness industry – including top celebrity fitness trainers seen on television networks such as ABC and NBC. He is also the founder of the fitness marketing blog, RenegadeFitnessMarketing.com, and president and CEO of the indoor fitness boot camp franchise, Fit Body Boot Camp. Keuilian is a long time business coach who has taught thousands of personal trainers how to grow their business through fitness marketing.
To find out more about Bedros Keuilian and his fitness boot camp franchise, please visit http://www.renegadefitnessmarketing.com and http://www.myfitbodybootcamp.com/.