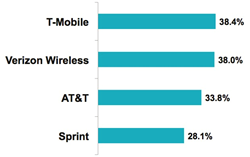 "We were intrigued to find that, for the most part, consumers are more delighted with non-contract wireless providers than with traditional, full-service carriers."
Louisville, CO (PRWEB) June 15, 2016
According to a large-scale consumer study conducted by Market Force Information® (Market Force), a leader in customer experience management, T-Mobile is America's favorite full-service wireless carrier and Consumer Cellular is its favorite among non-contract providers. More than 8,600 consumers were polled for the study, which was designed to uncover trends in wireless voice and data usage, carrier performance and satisfaction with the in-store experience, among other insights.
T-Mobile and Verizon Reign Among Big Four
For the rankings, Market Force asked participants to rate their satisfaction with their primary wireless carrier and its services, as well as their likelihood to refer that brand to others. The results were averaged to attain a score on the Composite Loyalty Index.
Among full-service wireless carriers, T-Mobile ranked first, barely edging out second-place Verizon Wireless, while AT&T ranked third and Sprint was fourth. [See Graph 1]. Consumer Cellular led in the non-contract carrier category, followed by Cricket, StraightTalk, Metro PCS, Boost Mobile, TracFone, Virgin Mobile and U.S. Cellular. [See Graph 2].
Smaller Carriers, Bigger Satisfaction?
Overall, customers of the non-contract wireless providers studied showed higher satisfaction levels than those with traditional, full-service carriers. The study found that just 62% of wireless customers have a contract, 33% aren't in a contract and 5% use pre-paid phones.
"We were intrigued to find that, for the most part, consumers are more delighted with non-contract wireless providers than with traditional, full-service carriers," said Cheryl Flink, chief strategy officer for Market Force. "This could be attributed to the fact that wireless users believe non-contract carriers provide a better perceived value to their customers based on factors like price, coverage, and flexibility to change plans."
T-Mobile Dominates in Value, Verizon on Network Coverage
In looking at what sets the top full-service carriers apart, Market Force found that T-Mobile customers are the most satisfied in terms of value, ease of changing plans and access to new cell phone technologies – it ranked highest in all of these categories, but at the bottom for frequency of dropped calls. Verizon was a clear leader in network coverage with 65%, an area where AT&T ranked second with 45% and T-Mobile third with 30%. Verizon also ranked highest for call strength, data speeds and new device technology. Sprint landed at the bottom for most of the categories studied. [See Graph 3].
Consumer Cellular Leads on Most Attributes
Consumer Cellular won the top spot for 10 out of 12 attributes among non-contract carriers. The top three brands with the best value were Consumer Cellular, Cricket, and TracFone (tie) and Virgin Mobile. When it comes to network coverage, the three leaders were Consumer Cellular, TracFone and StraightTalk. [See Graph 4].
Long Live Mobile Loyalty
Nearly three-quarters of consumers surveyed have been with their carrier for at least two years, and most intend to stick around. Only 12% indicated they plan to switch providers in the next twelve months, and the most popular reason was price. Sixty-five percent of those planning to change said it would be to score better value for their money, 35% to improve network coverage and 33% for more flexible plans. [See Graph 5]. The carriers that most said they'd switch from are Boost Mobile or Sprint, and the ones they'd be most likely to switch to are AT&T and Verizon.
Android Used Most, Apple is for Early Adopters
Android is more popular than Apple overall, with 47% saying they currently use an Android operating system on their primary wireless phone, and 42% indicated they use the Apple operating system. However, early adopters of technology tend to choose Apple over Android.
The In-Store Experience
Market Force also found that physical stores are still very important for mobile users. Over one-third of study respondents had visited a carrier's physical store in the previous 90 days, primarily to purchase a new phone, to have their mobile device fixed or to pay or inquire about a bill. Satisfaction with in-store visits was overwhelmingly high, with 81% indicating that they were satisfied or very satisfied with the service they received. Forty percent of consumers said they purchased a product recommended by the sales associate during their visit.
Survey Demographics
The survey was conducted online in May 2016 across the United States. The pool of 8,675 respondents represented a cross-section of the four U.S. census regions, and reflected a broad spectrum of income levels, with 53% reporting household incomes of more than $50,000 a year. Respondents' ages ranged from 18 to over 65. Approximately 73% were women and 27% were men.
About Market Force Information
Market Force Information® provides location-level measurement solutions that help businesses protect their brand reputation, delight customers and make more money. Solutions include customer experience surveys, mystery shopping and contact center data integrated on one technology and analytics platform. Founded in 2005, Market Force has a growing global presence, with offices in the United States, Canada, United Kingdom, France and Spain. It serves over 350 clients that operate multi-location businesses, including major retailers, restaurants, grocery and convenience stores, financial institutions and entertainment. More information can be found at http://www.marketforce.com.