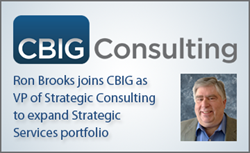 Chicago, IL (PRWEB) December 10, 2014
Ron Brooks, a recognized business strategist and specialist in market intelligence with over 20 years of experience, has joined CBIG Consulting as Vice President of Strategic Consulting. In this role, Ron will expand CBIG's strategic services portfolio, with a particular focus on marketing analytics and competitive intelligence. Previously, Brooks was a managing partner at Strategic Business Innovations, LLC, a consulting firm that provides data intensive, cross-discipline solutions in a variety of industries. In an earlier, long-time role as Director of Decision Support at Discover Financial Services, Inc., Brooks' career involved managing a large team of business intelligence, data mining, and technology specialists, merging innovative data warehouse applications with advanced analytic insights to refine corporate strategies and ensure successful implementations.
CBIG founding Principal and spokesperson John Onder said Brooks will lead CBIG's strategic services expansion effort by drawing on his established proficiency in the complexities of market-driven BI solutions. Brooks' area of expertise includes business intelligence, advanced analytics, customer loyalty, market research, new product positioning, vendor management, and partnership enhancement. Onder added, "Ron's gift is in translating organizational goals into profitable, information-driven, financially effective programs and services. He has a unique perspective that combines the best of both worlds—as a BI management consultant and as a business analyst on the client side that has successfully collaborated with consultants."
For his part, Brooks emphasized he plans to bring his proven success in effectively bridging viable strategies with actionable designs to CBIG clients enterprises, deploying optimal technology applications, tools, and automated processes. He will also be involved in developing big-picture management strategies that explore new ways to leverage and monetize data. Brooks said, "My goal is to help our clients understand their customers better, understand their market better, and understand their competitors better."
About CBIG Consulting:
CBIG Consulting is an international team of experts in Business Intelligence, Big Data Analytics, Data Warehousing, and Cloud-based Analytics platforms. Named a top BI and Big Data analytics consulting firm by independent research organizations and publications, CBIG's analytics consultants average fifteen years of direct experience in the field. CBIG works with global enterprises, mid-size businesses, and non-profit organizations in solving mission-critical reporting and analytical needs. CBIG is headquartered in the Chicago area and has additional offices in San Francisco, Boston, Denver, Austin, Raleigh, and Seattle in the U.S.; Sydney and Singapore serving the Asia-Pacific region; and London serving the United Kingdom. For more information, please visit http://www.cbigconsulting.com.