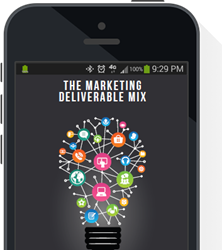 Chicago, IL (PRWEB) July 30, 2015
Proceed Innovative, LLC is a full service internet marketing and SEO firm and they have just launched a new mobile application, the Marketing Deliverable Mix app. The Marketing Deliverable Mix app was developed by Proceed Innovative to provide comprehensive information about the most popular marketing vehicles so that businesses and marketers can understand the functionality and cost of each vehicle. The purpose of this app is to help businesses create multi-faceted marketing campaigns using several of these marketing deliverables and understand how to integrate these deliverables for an effective and cost efficient campaign.
The Marketing Deliverable Mix app is designed to resemble the printed marketing cards that were created by JJR Marketing, Inc., with a card for each of the thirteen marketing deliverables and one card identifying the goals of the app. The thirteen marketing deliverables featured are the most commonly used and include experiential marketing, social media, word of mouth, advertising, public relations, search engine optimization (SEO), events, strategic alliances, and email marketing among others. When you choose a card for one of these marketing deliverables, the card flips over and reveals information about each deliverable including a definition, expectations, examples, frequency, average cost, and effectiveness. With this information, companies can brainstorm and create marketing campaigns within their budget that will help them achieve their desired marketing goals.
About Proceed Innovative, LLC
Proceed Innovative, LLC provides complete digital marketing services to help businesses maximize their online presence and drive more internet leads to their website. The exact services offered by Proceed Innovative include search engine optimization (SEO), pay-per-click (PPC), web design, web analytics consulting, mobile apps, lead generation, and local and mobile SEO. They work with each client individually to create a multi-faceted digital marketing plan that will achieve the client's marketing goals within a set budget. The SEO experts of Proceed Innovative also evaluate data from the marketing campaigns to measure the success and make modifications.
About JJR Marketing, Inc.
JJR Marketing, Inc. is a full service marketing and public relations agency that helps companies grow with integrated marketing strategies. Their team is dedicated to helping businesses maximize their marketing efforts to create new leads, boost sales, increase internet traffic, and break into new markets. JJR Marketing has worked with a variety of businesses from Fortune 500 companies to new startups to help improve their marketing strategies.