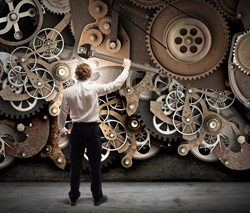 Functional leaders and their staff will always prioritize their functional goals ahead of any cross-functional goals, as long as their incentive compensation is only tied to their functional performance
New York, NY (PRWEB) December 30, 2014
David Hubbard, an expert in the topic of revenue growth, and the founder and CEO of Marketing Outfield, has just posted a new article to his company's website that discusses how CEOs can quickly turn their business strategies into accelerated revenue growth. The article is a follow-up to Hubbard's last post, which discussed the critical new leadership role that CEOs must play if they want to have a high growth company in this environment.
Titled "CEO Actions to Turn Strategy Into Accelerated Revenue Growth With Profitability," Hubbard points out that the reason many companies fall short of their potential is not because they have bad strategies, but because of a failure to fully implement good ones.
Rather than completely reinventing the proverbial wheel and coming up with a whole new plan, Hubbard feels that most CEOs can improve their bottom line with a revenue strategy tune up of sorts.
Hubbard said that in many cases, the main reason companies are not growing as quickly as they should is due to insufficient external alignment with their target market. Although CEOs may feel that they are accomplishing this goal quite nicely, the numbers say otherwise.
"While your target market may be the same as it was five or ten years ago, the buyers within that market have changed their purchasing process, dramatically," Hubbard wrote, adding that thanks to rapid changes in internet, social and mobile platforms, the buyer's team has access to all the information they need to determine their short list of possible vendors and service providers, without calling any Sales group.
"Has your company adjusted its go-to-market revenue process enough to stay aligned with the evolving purchase process of your target market buyers? Most companies have not."
As part of their revenue strategy tune up, Hubbard wrote that CEOs should identify the top two or three "roadblocks" that could be tweaked a bit to drive revenue growth in the right direction.
The first critical area where CEOs can add significant value is ensuring that the functional plans are aligned to both the corporate business strategy and to the evolving target market.
"If your target buyers are deciding their vendor short list based only upon information they find online, versus information presented to them by your field salesforce in a face-to-face meeting, then you need to confirm that the Sales, Marketing and Product Management groups have adequately adjusted their go-to-market plans with this new 'digitally connected' buyer reality," Hubbard wrote.
The second critical area where the CEO can add significant value is in the area of cross-functional teams.
"Functional leaders and their staff will always prioritize their functional goals ahead of any cross-functional goals, as long as their incentive compensation is only tied to their functional performance" Hubbard wrote, adding that incentive compensation is the most powerful tool in the CEO's toolbox to turn individuals, groups and functions into high performance revenue teams.
Finally, the CEO must take a leadership role in evolving the hodgepodge of functional systems into a corporate revenue system that dynamically monitors the health of the company's cross-functional revenue-generating efforts and allows the leadership team to adjust its go-to-market plans accordingly.
"Regardless of company size, you cannot have a high performance revenue team if each of the team members are executing outdated or different strategies" Hubbard concluded.
About David Hubbard:
David Hubbard is a proven business leader, a pragmatic revenue growth consultant, and the CEO of Marketing Outfield. With a unique professional track record within the Sales, Marketing, and Product Management functions, he brings a frank and unbiased perspective to his clients about accelerating revenue growth.
About Marketing Outfield:
Marketing Outfield is a consulting and implementation firm focused on helping companies and nonprofits cost-effectively accelerate their revenue growth. The company offers strategic revenue consulting, sales and marketing program execution, and interim executive leadership.