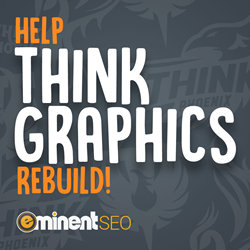 When members of Eminent SEO's team first heard about Think Graphics' loss of its Phoenix shop, they immediately offered to support the fundraising and rebuilding efforts.
Mesa. AZ (PRWEB) January 06, 2017
Eminent SEO, a Mesa, Ariz.-based digital marketing firm, has partnered with Think Graphics & Printing Solutions to help the latter business rebuild its downtown Phoenix shop, which burned down in August.
The cause of the fire is uncertain, and the official investigation is ongoing. Think Graphics has had to move its Phoenix employees to its Tempe office until it is able to fully rebuild its Phoenix shop.
Think Graphics' downtown Phoenix workspace was located on Roosevelt Row, right in the heart of a popular monthly event called First Fridays, where local artists and entertainers set up shop to make connections with and promote their artwork or services to thousands of visitors.
When members of Eminent SEO's team first heard about Think Graphics' loss of its Phoenix shop, they immediately offered to support the fundraising and rebuilding efforts. Eminent SEO is passionate about building connections with and promoting local businesses and artists.
"We immediately felt called to help," Eminent SEO Jenny Stradling said. "We are also a small, Phoenix-area company, and we believe in supporting local businesses and good karma."
Think Graphics works with various Phoenix-area artists and provides them with printing services such as business cards, banners, posters, magnets, hats and T-shirts. The company also offers graphic design and web design services to businesses and individuals.
To raise money to rebuild its Phoenix shop, Think Graphics launched a "Think Phoenix" T-shirt campaign. Think Graphics is offering multiple T-shirts that say "Think Phoenix" in different colors and featuring various designs by local artists. The company is hoping to sell at least 2,500 shirts in order to start reconstructing its workspace in the heart of Phoenix.
The "Think Phoenix" slogan is designed to increase hometown pride and encourage residents to think locally when looking for goods and services, according to Think Graphics owner Randy Phillips.
As its first act of support in Think Graphic's rebuilding efforts, Stradling bought every member of her team a "Think Phoenix" T-shirt. Eminent SEO then began filming a video to promote the fundraising campaign. This effort included capturing aerial footage of Think Graphics' scorched Phoenix shop using a personal drone and a GoPro camera.
"We like their work and feel bad they lost so much in a fire!" Stradling added. "We are just doing our part to help them rebuild."
Eventually, Eminent SEO and Think Graphics formed a working business partnership as well: Think Graphics is helping Eminent SEO out with its printing needs, while Eminent SEO is helping Think Graphics expand its marketing reach – via website, blogging, social media and other channels. Eminent SEO typically works with clients in the drug rehab, legal and home services industries, so adding Think Graphics as a client marked a new venture for the Mesa marketing firm.
Founded in 2009, Eminent SEO is a full-service, boutique marketing agency that boasts clients from all over the U.S. Eminent SEO offers marketing solutions such as Website Design and Development, Optimized Website Copywriting, Blogging, Social Media Management, Email Marketing, Video Marketing, Reputation Management and more. To learn more, visit https://www.eminentseo.com/.
To learn more about Think Graphics' "Think Phoenix" fundraising campaign and to see the T-shirt offerings, visit http://www.thinkphx.com/. T-shirts range in price from $25 to $30 and go toward helping Think Graphics rebuild its downtown Phoenix office. They can be shipped anywhere in the U.S. or Canada. New T-shirt options are periodically being added to the online selection, as designed by Phoenix-area artists.