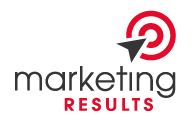 We'll detail the exact Action Steps involved in moving you closer to your goals within the next 90 days
Brisbane, QLD (PRWEB) July 21, 2015
Marketing Results, a digital marketing agency that offers expert lead generation services, has just released a series of in-depth reports specific to complex industries such as Finance, B2B, IT and Property Services. Offered as part of the Sales Lead Machine Blueprint Program, these new reports show business owners how to build an automated marketing system that generates qualified ready-to-buy sales leads.
Included are proven strategies that convert sporadic customer acquisition into a steady and reliable stream of qualified leads and new clients. Business owners will also be shown how others across their industry have been able to achieve great results.
Will Swayne, the Founder of Marketing Results, understands that every business is unique, so he suggests a custom plan for each business. "After you have read the report, we'll schedule a time for us to chat to understand more about your business, including your key business goals, such as how many leads and new clients you want and in what timeframe; your current results, including what traffic or conversion methods you may have tried previously; and what the results have been, and any obstacles, constraints or limitations that have held back your results in the past, that may be things we need to find solutions for."
Based on this information, Swayne will propose high leverage strategies to improve conversions, increase the quality of customer leads, and ultimately increase sales and revenue.
"We'll detail the exact Action Steps involved in moving you closer to your goals within the next 90 days." says Swayne.
About Marketing Results:
Marketing Results was founded in 2003 by Will Swayne, and has since grown into a digital agency with specialist expertise in lead generation for marketers of complex services and major products including financial services, property services, business services, education and training, information products and high-ticket products.
For more information about the report, please visit https://www.marketingresults.com.au/