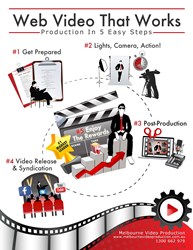 They're fun, interesting and compelling enough for people to want to share. It's the sharing element that really adds the value.
Melbourne, Victoria (PRWEB) July 29, 2013
Infographics are at their peak search interest according to Google Trends. Over the last couple of years, the searches have steadily increased with 2013 being at the pinnacle for interest. The online marketing experts at Melbourne SEO Services have just launched a new infographic service to meet the spike in demand for this specific style of graphic. "Being on the leading edge of what makes online marketing effective is what we do," says Mr. David Jenyns, marketing guru and founder of the company, "and infographics are the hot item for this year."
With the continuous evolution of the world wide web, changes to search engine algorithms and new competitors entering the market every moment, catching the short attention span of the masses is the main goal and challenge for any online marketer and business.
Thankfully, the creation of a new visual marketing tool called an 'infographic' has caught the eye of the general public and is fast becoming the popular technique for businesses.
An infographic is a combination of the words "Information" and "Graphic", and is a visual representation of knowledge, facts, stats and other data used to present complex information quickly and clearly.
Being known for spotting a trend as they arise are the marketing experts at Melbourne SEO Services. Over the last several months, they've been diligently working on creating an 'infographic' service which has just been released on their website.
Because of the pace of modern day life "people have very short attention spans," says David, "they expect instant impact and interest from pretty much everything they see online." The SEO & video marketing Director goes on to remark, "Infographics have become the hot thing for businesses right now because they offer a lot of information in a visual format...quickly."
David continues to say that the reason why infographics are valuable to businesses is because "they're fun, interesting and compelling enough for people to want to share. It's the sharing element that really adds the value."
He further explains that if someone "creates an infographic that's interesting enough that the viewer wants to share it, it's likely whoever they share it with will want to do the same, which will create a 'viral' effect and that's brilliant marketing."
As a result of the peaked interest in online graphics, Melbourne SEO Services has just launched their new infographic service on their website. For a one-off fee, the marketing experts will create a compelling graphic that will help "position the business owner as an expert, increase traffic to their website and aid in conversion rates." To find out more about these popular online graphics, contact Melbourne SEO Services on 1300 662 979 or visit http://www.melbourneseoservices.com/seo-services-australia/infographic-starter/.
About Melbourne SEO
MelbourneSEOServices.com is a full service search engine optimization (SEO) consultancy, based in Australia, but with a worldwide client base.
Known for being at the cutting edge of strategic SEO practices, the company delivers a growing suite of services including: on-page and off-page search engine optimization, article distribution, Google Places listing, press release service, web video production and one-on-one consulting.
Melbourne SEO Services Director, David Jenyns, has, over several years, built a team of experts who are niche experts to support the business, and who share his ethos for ethical, professional internet marketing.