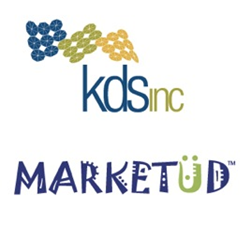 Our clients will now be able to benefit from a truly full-service marketing solution that allows them to create an even stronger brand presence.
Fairfax, VA (PRWEB) April 23, 2014
KDS, Inc., a leading full-service multimedia marketing firm, announced today the launch of two new service offerings: Marketing Strategy and Strategic Messaging and Content Development. Partnering with marketing consultancy, Marketüd, LLC, KDS now offers clients a fresh approach to their tactical marketing roadmaps and communications.
"We are excited to be able to offer these expanded services to our clients," commented Todd Mercer, Founder and Creative Director for KDS. "Our clients will now be able to benefit from a truly full-service marketing solution that allows them to create an even stronger brand presence."
Customized Marketing Strategy solutions include:

Marketing Gap Analysis
Business Strategy Level Set
Big Picture Strategic Approach
Tactical Strategy Roadmaps
Tailored Communications Development solutions include:

Corporate Positioning Statements
Target Audience Development
Tactical Communications Plans
Website and Marketing Collateral Content Development
"Having worked extensively with KDS over the last few years, I am thrilled to be able to provide our services on an expanded basis," noted Amee Singh, Chief Client Officer for Marketüd. "We are eager to work as part of the KDS team to seamlessly solidify and enhance our clients' marketing approach."
About KDS, Inc.
KDS, Inc. is a full-service multimedia marketing firm specializing in Web Design and Development, Print Design, Brand Identity, Social Media Strategy and Integration, Video Production and Strategic Multimedia Consultation.
Our principals share over 30 years of combined experience in multimedia design and development. Our broad knowledge base allows us to shape the specific marketing needs of our clients and develop creative and innovative solutions. While other, less innovative agencies steer you towards their pre-packaged solutions, KDS creates distinctive and effective multichannel marketing assets.
We are dedicated to helping organizations perfect message presentation. Our services embrace every media channel and allow you to communicate instantly with all of your intended audiences. Improved communication between you and your customers enables a higher level of collaboration, faster speed to market and a higher ROI. By balancing structure and aesthetics, we ensure solutions that are not only visually compelling but also usable and succinct.
About Marketüd, LLC
Just because you want a professional image doesn't mean you have to be boring. In fact, adding a splash of excitement to your image is exactly what you need to stand out. Marketüd is a strategic marketing consultancy offering a fresh approach to marketing with a focus on strategy, branding, communications, and social media customized to help your company evolve and get noticed.
Bringing over 25 years of corporate marketing experience, our solutions are customized to each client. We engage not only the executive team but also the folks in the trenches, allowing us to capture the true essence of who you are as a firm. We create an overall strategy, as well as a tactical execution roadmap for you to follow, enabling you to achieve and surpass your corporate objectives.
In a crowded marketplace, it is tricky to truly differentiate your products and services. Marketüd can help you do just that. Learn more at http://www.marketud.com.