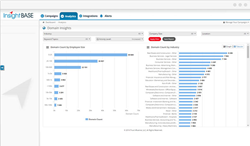 This new "set it and forget it" feature allows marketers to easily gather invaluable data pertaining to trends, campaign insights and action items and see patterns week-on-week as trends shift
WASHINGTON, DC (PRWEB) August 30, 2016
True Influence, today announced the launch of a new product feature for its flagship platform, InsightBASE™. The new email scheduling capabilities were designed to allow marketers to more easily harness a wide array of analytics with preset settings, so that InsightBASE reports can be generated and distributed automatically.
The new product feature now allows for nine types of reports to be generated automatically and sent via email. Those reports are: Campaign Trend; Company Export List; Contact Export List; Topic Potential; Topic Summary; Topic Insights; Company Insights, Industry Insights; and, Geographic Insights.
Brian Giese, CEO of True Influence, announced the new InsightBASE reporting capabilities in the following statement. "True Influence is very proud to roll out this new product feature for InsightBASE. We have augmented the platform's reporting features and added capabilities for automatic scheduling and emailing of our nine key reporting options."
The statement continued, "This new "set it and forget it" feature allows marketers to easily gather invaluable data pertaining to trends, campaign insights and action items and see patterns week-on-week as trends shift. For example, reports can gather and distribute the top trending topics in a campaign, cumulative activity of a company within a particular industry, or top topics by company."
About InsightBASE
InsightBASE, which went live earlier in 2016, is a Data-as-a-Service (DaaS) platform which monitors and curates online behavioral signals to facilitate marketers with the identification and engagement of prospects. A crucial feature that sets InsightBASE apart, is that it operates ahead of the curve, so that marketers can receive email alerts of prospect interest in near real time and perform direct prospect outreach before they have identified themselves as being "in the market".
About True Influence
True Influence is fast becoming a market leader in B2B lead generation and innovative fact-based account marketing. Its clients include IBM, TimeWarner and CEB, among others. To learn more about True Influence, InsightBASE, or to request a product demonstration, visit: http://www.trueinfluence.com