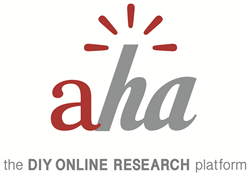 Our goal was simple: Develop the most contemporary, user-friendly, and comprehensive marketing research tool in the marketplace.
Detroit, Michigan (PRWEB) June 24, 2014
Aha! the DIY online research platform — formerly RealityLive — debuted its next generation features and updates at the Future of Consumer Intelligence and MRA Insights & Strategies Conferences.
 
The qualitative online research platform, developed by marketing research and technology experts, enables clients, research companies, consultants, and brand marketing agencies to easily create fully customizable and engaging online consumer or B2B studies. Aha! delivers best-in-class research features while allowing users to conduct innovative studies at a fraction of the cost of traditional market research studies.
 
The mobile-friendly research tool features a comprehensive suite of highly intuitive and interactive activities including storytelling, collage building, and social community tools such as pinboards, wishing walls, bulletin boards. The drag and drop technology makes it easy to set up studies quickly.  And the Aha! Platform can be white labeled for any brand or company for a custom look and feel.  
 
Aha! also offers hands-on training and support including marketing research best practices, study design, and respondent management techniques to guide clients through the process.
 
"Our goal was simple: Develop the most contemporary, user-friendly, and comprehensive marketing research tool in the marketplace," said Ray Fischer, Founding Partner at Aha! "The reaction has been overwhelmingly positive."  
 
The online research software also features dashboard navigation making it easy for researchers, respondents, recruiters and client observers to interact and track results. Aha's analytics suite puts all key themes, text, videos and images in one place to make it easy to publish findings and results. All the data can also be simply and easily exported to Excel and then imported to analytic software such as Ascribe or Wordle.  
The Aha! platform can be converted to any language allowing client's to conduct in-depth research anywhere in the world quickly and efficiently.
For more information or an online demonstration, visit http://www.AhaOnlineResearch.com  or call 1-810-599-9440.
 
About Aha!
Aha! is led and supported by an experienced team of online research and technology experts. Since 2007, hundreds of online consumer and B2B studies involving tens of thousands of respondents have delivered superior results.
Ray Fischer has been a pioneer and innovator in the online qualitative space since 2007 when he and his partners Jim Chastain and Jim White launched their first online study using their proprietary software.