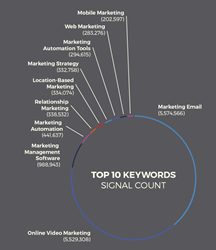 We set out to market business signaling intelligence with InsightBASE, and now see a 'secret weapon' of sorts for marketers
WASHINGTON, DC (PRWEB) December 20, 2016
True Influence has published findings from a new study, in which U.S. intent signaling data was monitored and analyzed to identify the terms in which marketers nationwide are showing the greatest increase in interest. An infographic and article on the study and its findings (including the Top 10 Hottest Marketing Keywords) can be read here: Top 10 Marketing Trends for 2017: An Intent Monitoring Study.
Results from the online research of marketing terms revealed the greatest increase in interest in the topics "email-related marketing" and "online video marketing." This conclusion was reached based on three factors:
First, using the InsightBASE platform, the online activities of companies nationwide were monitored for a period of two years to establish baseline activity levels. Second, these online activities for the 30-day period from November 15, 2016 to December 15, 2016 were monitored and compared to each company's baseline levels. Third, those keywords showing the greatest increase in online activity were isolated using the InsightBASE Relevance Engine.
Brian Giese, CEO of True Influence, announced the publication of the study in the following statement: "What makes this trending study significant is that it provides a window into the minds and interest areas of marketers nationwide. As the B2B buying journey begins with online research, this use of intent signaling data powerfully illustrates a new capability for B2B marketers. Now they can see which products and services companies are researching online, to tailor their marketing and activities to win new customers."
Giese continues, "We set out to market business signaling intelligence with InsightBASE, and now see a 'secret weapon' of sorts for marketers. We see trends towards marketers looking to integrate external data with the intelligence they are gathering from their own internal campaigns. In some cases the end result is a lift of over 450 percent in campaign conversion results."
This action-based information has value across all industries and job functions because it is monitoring near real-time behavior. It is interesting to note the variance in what people tell general researchers they are interested in compared to the story their actions tell.
The study, using data aggregated by InsightBASE, illustrates the specific marketing focuses that are most likely to continue to trend as we move into the first quarter of 2017.
Ian Altman, in his recent Forbes article entitled, "The Top Ten Business Trends That Will Drive Success In 2017," clearly validates the importance of video. "When you combine deliberate production with technology, video can provide great flexibility. Based on the user's interests and other details you know about them, you could assemble a video on the fly addressing the user's specific questions by pulling various snippets of video content. Those video snippets are then assembled into one seamless video message."
Not only is this highly relevant, but, "according to a recent Forbes study, video is becoming a critical source of information for executives:

More than 80% said they are watching more online video today than they were a year ago.
Three-quarters (75%) of executives surveyed said they watch work-related videos on business-related websites at least weekly; more than half (52%) watch work-related videos on YouTube at least weekly.
Overall, 65% have visited a vendor's website after watching a video."
True Influence will be continuing its observations and plans to release new comparative studies on the variables in 2017.
About InsightBASE
InsightBASE is a Data-as-a-Service (DaaS) platform that monitors the activity of millions of companies across the web and uses is proprietary Relevance Engine to intelligently link web activity to prospects.
A web application opens the window into full contact data of key personnel where you can set up email alerts whenever a target account shows signal interest in your product so that marketers can perform direct outreach when interest levels are at their peak.
About True Influence
True Influence is the market leader in B2B Intent Monitoring and innovative fact-based account marketing. True Influence's clients include Google, IBM, Time Warner, Oracle, and others.
Click here to learn more about technology at True Influence, or its services.