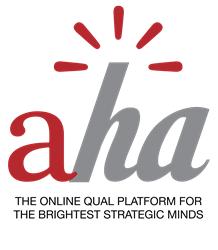 Next generation technology is changing how online consumer research is getting conducted.
Brooklyn, New York (PRWEB) February 17, 2016
Aha!, the strategic online qual platform, will be featured at the Quirk's Marketing Research and Insights Conference in Brooklyn, New York on February 23rd and 24th. Over 500 members from the marketing research and brand management community will be attending the consumer insights conference.
"The Quirk's Event gives us a unique opportunity to demonstrate how easy our technology makes it for corporations, marketing research consultants and ad agencies to easily create engaging online consumer or B2B studies at a fraction of the cost of traditional research studies," said Ray Fischer, CEO of Aha!
The comprehensive suite of dynamic online qual tools, developed in collaboration with the users of the platform, features social and mobile-friendly activities including storytelling, collage building, perceptual mapping and community tools, such as pinboards and wishing walls.
The next generation version of Aha's collage builder goes beyond traditional collage tools by adding the ability to use it as a concept "mark-up" tool as well.
"The collage tool is truly unique in its ability to allow drag-and-drop image selection along with the addition of words and phrases to the canvas. This is perfect for projective and symbolic exercises but also has shown great promise as a whiteboard for respondents to share images from their lives and annotate them with descriptive phrases," said Fischer.
Aha! also features intuitive drag-and-drop technology, making it simple to set up studies quickly. And the dashboard navigation and analytics tools are state of the art. Aha! is backed by experienced training and support from researchers who know how to use the technology to maximize the learning.
To learn more, contact Ray Fischer at 810-599-9440 or visit http://www.AhaOnlineResearch.com