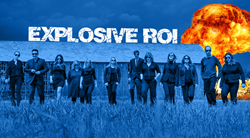 Marketing Doctor is extremely gratified to have received this certification from the WBENC...
Northampton, Massachusetts (PRWEB) January 12, 2017
Marketing Doctor Inc, the leading boutique advertising agency in Western MA, is now nationally certified by The Women's Business Enterprise National Council (WBENC).
The WBENC certification, recognized by hundreds of major corporations and government agencies, verifies that a company is at least 51 percent woman/women owned. As one of the most sought-after and respected business certification programs in the country, the WBENC national standard of certification is an intense process including an in-depth inspection of company financial reports, an administrative and organizational review of the business, and on-site inspections.
Janet Casey, the founder and president of Marketing Doctor Inc. a 100% female owned and operated advertising agency, is no stranger to the importance of certifications like this. As a long-time advocate for women's equality and leadership in business she holds an impressive record of fighting for fair and progressive business practices. Throughout her career, Janet has participated in several professional women's organizations including:

Marketing Doctor is an award-winning marketing agency that enjoys serving clients nationwide in both the public and private sectors, including: The U.S Army, Massachusetts Department of Transportation, Penn National Gaming, Massachusetts Office of Consumer Affairs and Business Relations, Massachusetts Executive Office of Labor and Workforce Development, Apollo Endoscopy, and Friendly's.
With this certification, Marketing Doctor continues to expand its footprint with government and corporate organizations that promote equality and women's empowerment. Janet Casey was overjoyed to have received such high recognition from the Women's Business Enterprise National Council, relaying that:
"Marketing Doctor is extremely gratified to have received this certification from the WBENC for our efforts to bring diversity not only to our own workplace, but also to our current and future clients. This certification allows us to expand our relationships with other WBE-seeking enterprises, and to continue to serve all levels of the government as they commit more fully to an inclusive-procurement process."
As a full-service marketing agency Marketing Doctor provides: Media Buying, Digital Advertising, Graphic Design, Branding, Social Media Management, SEO and SEM, Direct Mail Marketing, Website Design/Revisions, Event Marketing, TV/Radio/Photo Production, Mobile Marketing, Email Marketing, Content Marketing and more.
Marketing Doctor Corporate Headquarters are located at 30 Industrial Drive, Northampton Ma 01060, and may be reached for consultation at 413-341-5513.
About Marketing Doctor Inc.
Marketing Doctor is an industry leading, full-service marketing agency located in Northampton, MA. Since its founding in 2003, Marketing Doctor has offered results-oriented marketing. Known for a strategic and analytical approach to helping clients meet their varying organizational goals, Marketing Doctor has grown considerably since its formation, branching into both state and federal contracts as well as the private sector. Marketing Doctor is a Google Partner, Facebook Blueprint Partner, a Commonwealth of Massachusetts Approved Vendor, certified "Woman Owned Business Enterprise", and certified "Disadvantage Owned Business".
For more information go to http://www.mymarketingdoctor.com
About WBENC
The Women's Business Enterprise National Council (WBENC), founded in 1997, is the largest third-party certifier of businesses owned, controlled, and operated by women in the United States. WBENC, a national 501(c)(3) non-profit, partners with 14 Regional Partner Organizations to provide its world class standard of certification to women-owned businesses throughout the country. Outside of the United States, certification is provided by our alliance partner, WEConnect International. For more information, go to http://www.wbenc.org.