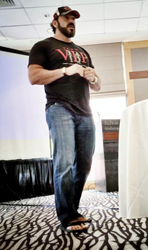 This is an extremely effective strategy for marketing a personal training business using people you already have on your email list.
Chino Hills, CA (PRWEB) July 31, 2014
Bedros Keuilian's Fit Body Boot Camp franchise has locations all over the US and in several other countries. At his annual Fitness Business Summits, some of the highest earners in the industry turn to Keuilian for their marketing strategies. But in his latest blog post, he shares that one of the most effective strategies for marketing a personal training business is to create free fitness info products to gain new clients.
"Almost every personal trainer has a certain area that they really feel strongly about or have a lot of knowledge in," says Keuilian. "By giving away that knowledge in a free info product, they can establish themselves as experts, build trust and credibility, and seriously increase their chances of turning contacts into clients."
As Keuilian explains, most personal trainers and fitness boot camp owners have a number of email contacts who have expressed enough interest to join their mailing lists, but never come into their boot camp or contracted their training services. Keuilian says that creating a fitness information product and then giving it away to those on the mailing list that opt-in to receive it is a great way to move many people from the contact list to the membership roster.
"Whether you create a 10-day fat burning plan or a great 30-day fat loss diet or what have you, as long as it's good content, it'll be a great way to identify those people on your list who are more apt to sign up for your services," he says.
Keuilian adds that it's very important to build up excitement and interest by mentioning the product briefly but enthusiastically for a few weeks prior to launch, and that it's also important to state that it's only available to those who specifically request it.
"This turns that contact into more of what's called a 'warm lead'," says Keuilian. "These people are obviously looking for solutions to their diet and fitness needs. By sharing your knowledge with them freely and establishing yourself as someone who knows what they're talking about, you make it much easier to get them from your mailing list into your facility."
Keuilian adds that once the contact has signed up for and received the info product, the next step in marketing a personal training business in this way is to offer the contact, via email, an exclusive, low-barrier offer. "Offer them a deep discount on a month of training or invite them to a 10 or 14-day transformation challenge for a nominal cost. Once they're in the door, you can blow them away with great training and great results, and convert them to a long-term client."
Keuilian adds that his boot camp owners have realized an average 80% conversion rate using this process.
In his blog post, Keuilian makes his point by laying out the process in a handful of simple steps that personal trainers can follow, even without any experience in creating information products.
"This is an extremely effective strategy for marketing a personal training business using people you already have on your email list," he says. "It's also extremely simple to do, can be done in two weeks or less, and is very inexpensive."
About Keuilian Inc.:
Keuilian Inc. (est. 2007) was founded by fitness marketing and business consultant, Bedros Keuilian, who has been named the "hidden genius" behind several of the biggest names in the fitness industry. In addition, he is also the founder of the popular fitness marketing blog, PTPower.com, and founder and CEO of the indoor fitness boot camp franchise, Fit Body Boot Camp.
To find out more about Bedros Keuilian and his fitness boot camp franchise, please visit http://www.ptpower.com/ and http://www.myfitbodybootcamp.com/.