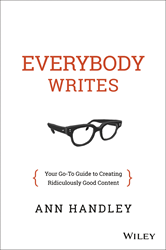 Put a new value on an often-overlooked skill in content marketing: How to write, and how to tell a true story really, really well.
Hoboken, NJ (PRWEB) September 17, 2014
In "Everybody Writes: Your Go-To Guide to Creating Ridiculously Good Content", top marketing veteran Ann Handley gives expert guidance and insight into the process and strategy of content creation, production and publishing, with actionable, how-to advice designed to get results. Because in a content-driven world, everyone is, in fact, a writer.
"If you have a web site, you are a publisher. If you are on social media, you are in marketing. And that means that we are all relying on our words to carry our marketing messages," explains Handley.
"In a time-challenged world dominated by short and snappy, by click-bait headlines and Twitter streams and Instagram feeds and GIFs and video and Snapchat and YOLO and LOL and #tbt. . . does the idea of focusing on writing seem pedantic and ordinary? Actually, writing matters more now, not less. Our online words are our emissaries; they tell the world who we are."
Handley explores how the lessons and rules of creating good content apply across all of online assets —web pages, home page, landing pages, blogs, email, marketing offers, and on Facebook, Twitter, LinkedIn, and other social media. Handley deconstructs the strategy and delivers a practical approach to create ridiculously compelling and competent content - whether a big brand or small and solo.
"Our writing can make us look smart or it can make us look stupid. It can make us seem fun, or warm, or competent, or trustworthy. But it can also make us seem humdrum or discombobulated or flat-out boring," Handley adds. "That means we've got to choose words well, and write with economy and the style and honest empathy for our customers. And it means you put a new value on an often-overlooked skill in content marketing: How to write, and how to tell a true story really, really well."
The book is separated into six sections; each deals with a different dimension of content:

How to Write Better (and How to Hate Writing Less)—the latter for the recovering or traumatized writer—offers some handy scaffolding and blueprints for better thinking and writing.
Grammar and Usage discusses the stuff most people consider writing. It gives readers some grammar rules and tools to help them choose better words and craft better sentences and paragraphs . . . to help them start flexing your content muscles.
Story Rules (Part 3) and Publishing Rules (Part 4). The first provides some guidelines on elements that will infuse content with heart and soul and integrity, and layer it with a warm blanket of trust. There's a lot to learn here from the ground rules of journalism and publishing, so those are covered in the part that follows.
13 Things Marketers Write, which gives readers a super-tactical look at typical marketing tasks.
Content Tools gives readers a reference list of resources and paraphernalia to help them produce their best work.
Handley adds, "In our world, many hold a notion that the ability to write, or write well, is a gift bestowed on a chosen few. Writing well is considered a kind of art, linked murkily to muse and mysticism. That leaves us thinking there are two kinds of people: the writing haves—and the hapless, for whom writing well is a hopeless struggle, like trying to carve marble with a butter knife.
"But I don't believe that, and neither should you. The truth is this: writing well is part habit, part knowledge of some fundamental rules, and part giving a damn. We are all capable of producing good writing. Or, at least, better writing!"
About the Author
Ann Handley is a veteran of creating and managing digital content to build relationships for organizations and individuals. Ann is co-author of the best-selling "Content Rules: How to Create Killer Blogs, Podcasts, Videos, Ebooks, Webinars (and More) That Engage Customers and Ignite Your Business" (Wiley). She is the Chief Content Officer of MarketingProfs; a columnist for Entrepreneur magazine; a LinkedIn Influencer; a keynote speaker, mom, and writer.
For more information, please visit http://www.annhandley.com and follow her on Twitter @MarketingProfs