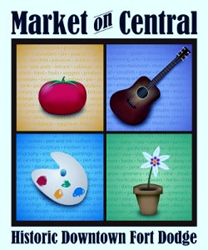 "It just makes you smile to see how a farmers market can be so beneficial to the community by strengthening the downtown and providing opportunities for vendors to grow their businesses." says Cheryl O'Hern, Market Manager
FortDodge, IA (PRWEB) July 09, 2014
Market on Central is a farmers market that is located in the Historic Downtown District of Fort Dodge, IA. In just three years, this farmers market has gained national recognition by ranking as #76 of the top 101 farmers markets in the nation according to The Daily Meal.
Providing a diverse vendor selection for visitors to purchase fresh produce, wine, cheese, jams and jellies, farm fresh eggs, baked goods, popcorn, cheesecake and more along with unique Iowa homemade items is just a small part of the popularity of this farmers market.
Market on Central also provides a family atmosphere and social gathering place to meet friends. A variety of entertainment is offered along with various educational programs such as Discover You Can: Learn, Make Share.
"We strive to provide healthy foods along with producer to consumer education." states Cheryl O'Hern, Market Manager. "Farmers markets are becoming more popular every year as consumers become more aware of how healthy fresh produce is for their families. Market on Central is also a Buy Fresh, Buy Local Iowa farmers market."
Market on Central is an event that was first introduced in the Iowa Great Places project that Webster and Hamilton counties were designated in 2010. In the application, a farmers market was identified as a social event that would provide development of the historic downtown district, become a destination stop, help stimulate new businesses in the district and work as a small business incubator for the vendors that participate.
Several vendors have seen great success and expansion of their services. The Fort Dodge Cheesecake Lady has opened a store front in the Historic Downtown, Garden Winery purchased an abandoned school building and opened a winery and vineyard and Smucks Kringle is now selling products at area Casey Convenience Stores.
Cheryl adds, "It just makes you smile to see how a farmers market can be so beneficial to the community by strengthening the downtown and providing opportunities for vendors to grow their businesses."
The Historic Downtown in Fort Dodge is also seeing a tremendous change with redevelopment, new businesses opening and extensive construction that includes the new crosstown connector that will better define the downtown area and provide a more direct traffic flow in the city.
The motto of "Come for Breakfast, Stay for Lunch and Take Home Dinner" is a perfect description of Market on Central that is held on the second and fourth Saturdays from June to September.
Market on Central is a public private partnership with organizations such as USDA, SSMID, City of Fort Dodge, GFDGA, Smeltzer Trust, Deardorf Foundation, Cargill, Unity Point and numerous other local businesses. Visit the website at http://www.fdmarketoncentral.com for a complete list of sponsors along with vendor information and entertainment. You can also call Cheryl O'Hern, Market Manager at 515-302-8026 or email at cheryl(dot)ohern(at)spinmarkket(dot)com for more information.