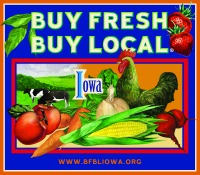 Chef Hulett adds, "This year's ceremony will have special significance locally with the supreme sacrifice of two first responders in the past year. We will be honoring Firefighter Tom Peart .... and Officer Jamie Buenting
Fort Dodge, IA (PRWEB) September 11, 2014
This Saturday at Market on Central, the Fort Dodge Fire Rescue will conduct the 9-11 Ringing of the Bells Ceremony in Historic Downtown Fort Dodge.
Chef Hulett of the Fort Dodge Fire Department states, "All Webster County Public Safety Agencies are invited to participate. This includes all first responders, Law Enforcement (city,county,state), Volunteer Fire Departments, and EMS agencies." Chef Hulett adds, "This year's ceremony will have special significance locally with the supreme sacrifice of two first responders in the past year. We will be honoring Firefighter Tom Peart with the Fort Dodge Fire Rescue and Officer Jamie Buenting of the Rockwell City Police Department."
Agencies are also invited to bring emergency vehicles and to park them on North or South Ninth Street.
The ceremonial ringing of the bell in memory of those who died in the line of duty is an age old tradition of the Fire Services that dates back over 150 years. The tradition reflects respect and honor to those who gave their lives to their duty. A distinctive bell ringing marks the end of an emergency and a return to quarters.
Included in the ceremony will be the raising of "Old Glory" from the ladder truck while Susan Ahlers Leman sings God Bless America.
Market on Central will also have other entertainment during the day with Chad Elliott performing after the ceremony and throughout the morning. Discover You Can - Learn, Make, Share will have products and information and UnityPoint Health - Trinity Regional Medical Center will be on site with their athletic trainers.
Visitors will find several new vendors at Market on Central this Saturday. The farmers market has a variety of vendors that will have fresh produce, baked items, maple syrup, wine, jams and jellies, wine, popcorn, BBQ, mini donuts and breakfast burritos, fresh salsa, chips and enchiladas, unique Iowa homemade items that includes jewelry, photography, bath soaps and lotions, wood signs, wood furniture and more. Visitors can view a complete list of vendors by going to Market on Central.
Market on Central has for the second year in a row been selected as one of the Top 101 Farmers Markets in the Nation and is held on the 2nd and 4th Saturdays from June to September.
Market on Central is a public private partnership that promotes small businesses producing Iowa made products and produce in a farmers market setting in Historic Downtown Fort Dodge. For more information visit http://www.fdmarketoncentral.com or call 515-302-8026.